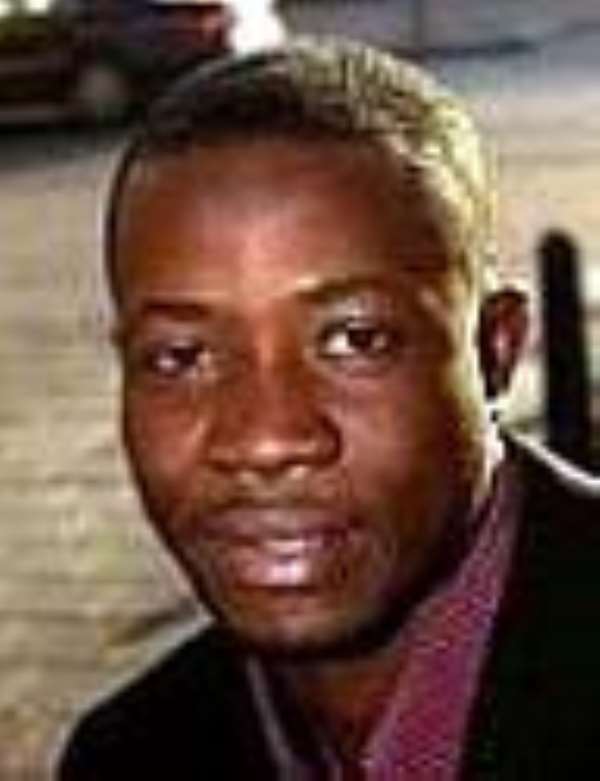 ... On his way home at night Palaver -- THE Dansoman Police are investigating a case, in which Mr Raymond Archer, Managing Editor of the Enquirer, was attacked by some unknown persons, while on his way home, late last Wednesday night.
Mr Archer, who had closed from work and was driving towards his house, was intercepted by the assailants, armed with cutlasses and cudgels, on a "rough" road, a few metres to his house.
Sensing danger, as the assailants appeared like killer-gangsters, he had to reverse, at top speed, to join the main road.
Of course, the attackers, in an attempt, to halt him in his get-away move, smashed the vehicle, with their weapons, succeeding only in causing damage to the then unoccupied passengers front seat.
The Managing Editor, who sustained no injuries, in the attack drove straight to! the Dansoman Police Station, where he made an official report about the incident.
Later, Mr Archer had to drive home, under police protection.
Narrating the incident on an Accra FM Station, Mr Archer said although he does not know the assailants, he can identify them, when grabbed, since they came very close to the car, as they wanted to be sure of the identity of the occupant.
Mr Archer could not say whether the attack had anything to do with some of his recent "exposes" in his newspaper.
An established investigative journalist, Mr Archer was in the centre of the former presidential adviser, Giselle Yadji, affair.
Indeed, in its recent edition of the newspaper, he reported that he had received a supposedly recorded "conversation" between President J. A. Kufuor and Gizelle, which contained explosive information.
He said since the sender is anonymous, he would want to cross-check the information before going to town with any of them.
Asked whether the attack had given him a scare, for him to "œtone down" with his daring "escapades", he replied in the negative and assured his readers to "stay on course".
Apart from the Gizelle Yadji affair, Mr Archer has, in the past, dived deep to fetch "the news behind the news".
One of his "firsts" was the Dr Richard Anane "œinter-continental" love affair, which raised eye-brows, when amplified at the recent Parliamentary Vetting Committee.
However, Dr Richard Anane was "passed" by the NPP majority and retained his position as a Minister of Roads and Transport.
Later, President Kufuor claimed to have sworn in Dr Anane, as a Minister, because he had no other choice, including that of over-ruling the decision of his MPs