Trump Has Put Her Family's Safety At Risk With His False Racist Accusations - Michelle Obama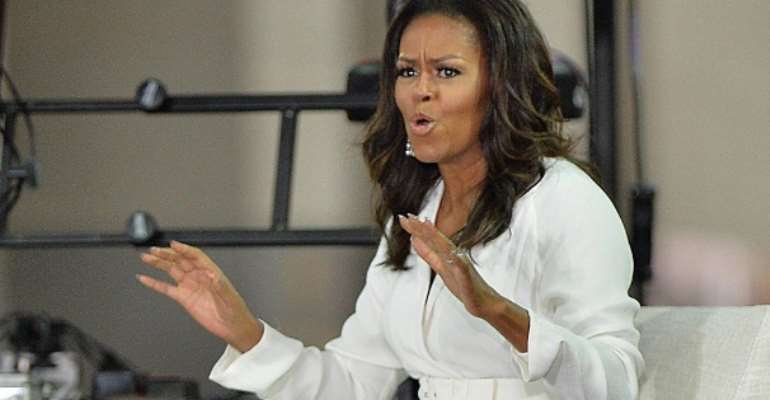 Michelle Obama also writes that her marriage to the politician Barack has not always been easy: "Marriage counseling was a way for us to learn how to talk about our differences." She also wanted to encourage other couples who were struggling with her marriage.
A large part of the biography also takes the review of the presidential election campaign of 2007. She knew that it would be hard, but she was not prepared for critics who called her "unpatriotic" and "angry black woman". I am a woman, black and strong, which some people just translated with anger. What hit her most was the constant attempts to tarnish the reputation of my husband with his false accusation, that her husband had secretly been a Muslim and was born abroad.
"Never been a fan of politics"
With the incumbent president, she goes to court several times in other places. Her body had shaken with anger when she heard the sound recordings Trump bragged about, how he had passed on to women.
She also remembers how Trump stalked his Democratic opponent Hillary Clinton during a campaign debate. Trump had followed Clinton across the stage at that time and stood behind her. Trump has tried to downsize Clinton's presence, writes Obama. His message was: "I can hurt you and get away with it."
Obama also reveals what she felt about Trump's election on November 8, 2016. She was surprised that so many women preferred a misogynist to an exceptionally qualified candidate. She had tried to crowd out Trump's choice.
Obama also makes it clear that she will not run for the Democrats in the November 2020 presidential election. "I've never been a fan of politics, and my experiences over the past ten years have done little to change that, and the vulgar repulses me." Michelle Obama continues to be popular with the Democrats. Some hoped that she would face Trump in 2020. However, Obama has made it clear several times that she will not stand for election.
Francis Tawiah (Duisburg - Germany)