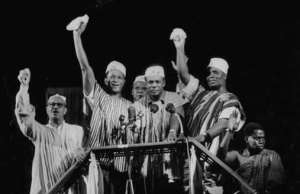 It's usual and commonsensical to build on the foundations laid down by our predecessors and for this matter, our founders. These were men not of our kind because they sort for the development of a nation that had been under colonial molesting for years. To materialize what they had in mind, they began, first and foremost, a fight for our independence not as a country with freedom only but a people to have their own power to think and build their country. This is evident in the infrastructures and the early beginning of industrialization which they founded. You cannot in a glance mention what our fathers wished for us, the future generations in the industries they constructed for us.
Dr. Kwame Nkrumah and his Co-Able founders did and wished a "universal quality of life" not for themselves nor for the immediate generation but for eternity. What did they do to ensure this universal quality of life? They began with the establishments of factories: cocoa processing factory, sugar factories as well as other food processing factories.
Amazing of all the love and vision they had for their generation is the construction of the Dam where till date, power is supplied to about 95 percentage Ghanaian people. If people who lived fifty years ago found the need to do such things then this is what I mean by who a founder is. A founder is not just the one who founds, for example, a toilet facility which could be used only by twelve people without looking into the futurity but is one who is like Dr. Kwame Nkrumah and his team of able wise men who constructed the Akosomgbo Dam which is in use till date. Does he not deserve to be called OSAGYEFO? We may better refer to him and his team members as MESSIAHS and would look forward to their return. This is for the simple reason that instead of "us" building on what they did, we have rather demolished them. Permit me to ask everyone this question, "What do we learn when we celebrate Founders' Day?" If till now we can't boast of any founder beside those we've had though we've demolished what they did, then it is a complete waste of time and energy, and resources to celebrate Founders' Day. By the fireside, I learnt the traditional knowledge about the origin of the world. By this same fireside, I learnt how to build and use my capabilities listening to the story of learning from the 'Ant.' What are we learning? The motor way was built many years back and till date we still make use of them. Today, our leaders construct roads and even as the worker are still on the job, one would find pot holes and man holes.
Demolishers of what our founders' did, it is enough! Do not be a hero for something worse done. Did our founders whish that we extract gold, bauxite, manganese, and other natural resources and transport them overseas begging for market? We have destroyed even what we came to meet. We couldn't add to what they did but destroyed them. Why? Is it that we are only capable of destroying? If this is the case then we are to be pitied. Or is it that they had minds and we have no such a thing? If we are thinking of developing, then there is the need to develop ourselves. It is only when we have developed ourselves as people that it would reflect in the physical nation.
Who is a founder? According to Longman Dictionary of Contemporary English, a "Founder" is someone who establishes a business, organization, school etc. Since our nation was not founded by the people we call founders but they founded our independence, then I can call them founders. Beside this, they founded the many companies and factories we have destroyed. We are all to be blamed for this. These are people I describe as men. And for me, a man is a sentient being, capable of enjoying and suffering, and of promoting the happiness of his fellow men. If man was incapable of experiencing pain, or if he was isolated, so that he could not communicate with his fellow men or relieve their sufferings, this organ would be out of place. Instead of this, not only is he capable of enjoying and suffering himself but he can cause others to enjoy and suffer, and this organ is adapted to this capability of promoting the enjoyment and alleviating the sufferings of his fellow men. This is what our founders did. This is what makes a man. We the living, must awaken our sleeping minds, get them to work for they have lain in idleness for long. We must think of building a nation that will not only serve as a tourist cite but a model for other countries. Till when do we want to be referred to as developing country? Since when did we get this stigmata, and when do we want to change this tribal mark?