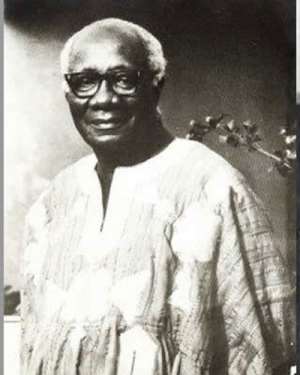 Folks, I watched all that happened in Kyebi last Thursday when the Asantehene attended the durbar held by the Akim Abuakwahene (Osagyefo Amoatia Ofori Panin) to honour Nana Sir Ofori-Atta I (Member of the British Empire), 75 years after his death.
Those of us who studied the history of the Ghana Empire and the pre-colonial, colonial, and post-colonial eras aren't strangers to all the showmanship and pledge to unite under an Asante-Akyim umbrella. Whatever tore them apart might be said to belong to history but can be brought up to discuss why all the manouevres being made to create the impression that all is well with the Asanteman and Akyim don't turn my crank.
(Who killed Asantehene Osei Tutu the First on River Pra? Certainly, not the Dagombas or Ewes, but those in the Akyim (or was it Denkyira?) areas who had a huge grudge against whatever must be happening? Why couldn't previous Asantehenes go the way this one is going? Why would all these manouevres begin being made now only after the open denigration of the Asantehene by Gabby Otchere Darko and Nana Asante Bediatuo, as reported, and which provoked extreme anger in the Otumfuop to the extent that Akufo-Addo had to dash to Manhyia to do damage control? And there are more issues, which I will not lose any sleep over. Let those eating the pudding know where it tastes sweet or bitter).
All this privileging of "Asanteman", "Akyim-man", etc. has no place in my mind. In fact, I am averse to any nomenclature ending with "man" (the Akan word for "land", "territory", or whatever else). Such a nomenclature has negative implications to me as far as modern politics is concerned. It entails separateness and hegemony. In contemporary times, such tendencies hold no place. Nationalism, itself is dead except in the minds of those who still think that they can continue to hold themselves up as uniquely different from others on this earth.
Beyond identifying with each other this way, what have the Otumfuo and the Osagyefo have up their sleeves to relate to paramount chiefs in other parts of Ghana to establish this kind of bond?
Recall here, folks, that some years ago, there was much controversy about claims by the Asantehene that he had power over some areas in the Volta Region, especially Hohoe. What the Asante enclave has about some parts of Brong-Ahafo and the hegemonistic inroads provoked the Techiman paramount chief to lock horns with this Asantehene. It's all on record.
Will the Asantehene and the Osagyefo go beyond this narrow Asante-Akyim brotherhood to deal with others in other parts of Ghana to give chieftaincy a better name in contemporary times? The days when paramount chiefs constructed themselves as hungry hawks hovering above feeble chicks to snatch are gone!! No support from the political establishment will bring them back!!
Let me cut it short here to focus on what has prompted me to write this piece.
When Akufo-Addo entered office and sought to revive the Danquah-Busia crap, many things began being put in place, one of which was to organize public lectures at which old fogeys of Professor Mike Ocquaye's type focused on the rhetoric of revisionism regarding Ghana's history.
One that caught much attention and attracted extensive ridicule was the claim that the real date worth recognizing as Ghana's birthday was August 4 and that the real founders of Ghana included others than the Great Osagyefo. Thus, it was wrong for the Atta Mills government to designate Nkrumah's birthday (September 21) for celebration as "Founder's Day".
To them, August 4 was more inviting because that was the date on which George Paa Grant and others made decisive moves for Ghana to emerge into its own.
Immediately thereafter, Akufo-Addo re-designated September 21, narrowing it down to Nkrumah, and broadening the scope to the effect that August 4 should be recognized and celebrated as "Founders' Day" (inclusive of all those on their lips as the real architects who deserve the accolade and not Nkrumah.
Some of us laughed them to scorn for this useless attempt at plastering history, waiting impatiently for them to attempt celebrating August 4 this year as the starting point.
What happened? No celebration of the date. No mention of anything regarding what Prof. Ocquaye had overzealously rammed down the throats of gullible people.
So, what happened for the occasion to slip by uncelebrated? Another dark spot in the sphere of incompetence?
And they have slated another remembrance ceremony for this Tuesday in honour of Kofi Abrefa Busia. These revisionists are really doing overtime to go nowhere. If Busia's government were doing the right thing, would one of their own (Kutu Acheampong) boot them out of office?
(The only remarkable thing about Busia's life and rule can be summed up in his academic work and his government's introduction of the Rural development Programme---which can even be traced to the Great Osagyefo Dr. Kwame Nkrumah's masterplan for uplifting Ghana).
What lesson have the Akufo-Addos and Co. learnt from the lives and works of those dead fellows being exhumed for celebration today so they can move Ghana forward?
As I saw them at the durbar last Thursday, I was quickly reminded of the uselessness of their attempts at forcing a river to flow upstream. Only those who don't know their history will buy into all that empty pomposity. I won't.
Let them come out again to label me as a hater of Akans. I care less.
By Dr. Michael J.K. Bokor
(E-mail: [email protected])
Sunday, August 26, 2018