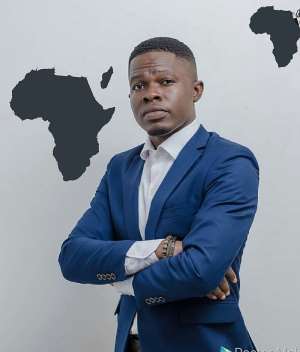 I sit and watch the future of mother Africa with elastic faith in Mother Ghana.
I see hope been shuttered by our "some selfish" forefathers and incumbent fathers.
Nkrumah did his part, Mandela did his, Martin Luther king Jr did his, and many others.
I ponder and soak my Feet in a "Calabash of shame and uncertainty" because Africa is growing in mediocrity; more of beggars than producers.
Africa is like a crying wealthy farmer.
A farmer who call himself poor simply because he cant see the wealth of his farmland: a land full of untapped resource : enough minerals and food for development.
How can such a farmer cry out of hunger?
Is it a hunger of mediocrity ?
Is it a hunger of ignorance?
Is it a hunger of visionless minds?
Hmmmm i ponder vigorously .
My heartbeat awakes me to the realities of Africa's growth and market share of the World Economic wealth.
Imagine how Africans are wondering how John Donald Trump election will affect their well being?
Africans with begging mentality.
Thinking of what good Others can put in their open Arms.
What seed are we sowing for the next generation of our dear Mother Africa?
Is it African Countries with begging arms?
Is it African Countries with political parties fighting for power instead of Economic empowerment?
Is it An African Continent with poor Purchasing Parity Power of GDP?
Rocket Science ?
Is it a rocket science to have one currency for African continent, where Africans can easily trade among themselves and build a strong and resilient purchasing parity power currency that can compete with currencies like Euro , Dollars among many others.
This alone can turn the economies of African countries , empowering and promoting industrialization that is capable of closing the gap of importation within African countries.
If Ghana and Nigerians are the only African countries ready to start with the one currency campaign, let them go ahead and do it now. The others will gradually join with time.
Our leaders must stop, ponder, reflect and understand that there is a next generation worth fighting for.
We are where we are now because of the input our leaders for the past decades gave.
I need answers as i ponder and soak my feet in the "River Calabash of African untapped Wealth"
I will tell you when i get the answers to this unwinding questions.
I'm grateful for a peaceful Ghana
A Ghana full of hope and possibilities
Don't let me hang up my Guitar strings of Hope for a string of Noise and Hopelessness . . .
Africa is surely a continent possible of surviving beyond aids.
'Ghana beyond aids' is a campaign that need to start from leadership now and not later.
Justice Offei Jr
Entrepreneur | Oil & Gas Consultant| Business Coach | Columnist | Speaker