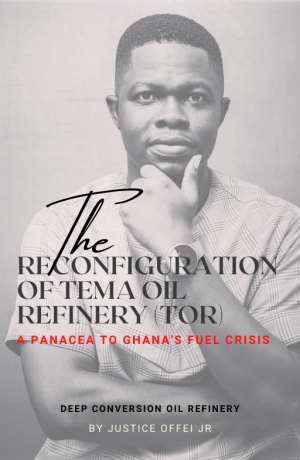 Ghana has traditionally been a net importer of crude oil, the price of which is determined on the international market. As a small and open economy, Ghana is often vulnerable to oil price shocks in the event of any significant price fluctuations.
As of October 2021, the crude oil production capacity in Ghana stood at 174,000 barrels per day while TOR imported 201,000 barrels per day in the same year (April 2021). According to OEC Report, in 2020, Ghana exported $2.71B in Crude Petroleum, making it the 27th largest exporter of Crude Petroleum in the world. In the same year, Crude Petroleum was the 2nd most exported product in Ghana. The main destinations of Crude Petroleum exports from Ghana are China ($1.24B), South Africa ($506M), the United States ($353M), the Netherlands ($153M), and Thailand ($128M).
Alarmingly, TOR couldn't refine these billion-dollar crude oils. More surprisingly, in the same year, Ghana imported $133M in Crude Petroleum, becoming the 73rd largest importer of Crude Petroleum in the world. In the same year, Crude Petroleum was the 28th most imported product in Ghana. Ghana imports Crude Petroleum primarily from: Nigeria ($132M) and United Arab Emirates ($219k).
Ghana's product complexity in crude petroleum in 2020 is obviously as bad as we were ranked 1028 /1028 due to our poor Nelson Complexity Index.
The Nelson Complexity Index (NCI) is a measure of the sophistication of an oil refinery, where more complex refineries are able to produce lighter, more heavily refined, and valuable products from a barrel of oil.
Petroleum importation is a highly capital-intensive venture, which ultimately leads to high fuel prices that ordinary Ghanaians have to pay at the pump. Oil-producing Countries with better oil refinery configurations import less or no crude oil for their refineries, which leads to cheaper fuel consumption, comparatively.
The overall economics or viability of a refinery depends on the interaction of three key elements: the choice of crude oil used (crude slates), the complexity of the refining equipment (refinery configuration), and the desired type and quality of products produced (product slate). Refinery utilization rates and environmental considerations also influence refinery economics.
Crude oil is the primary input into the petroleum refining industry. Regardless of the source of crude oil, the price is determined in the world market and both imported and domestic crude oil is priced according to the supply/demand balance and pricing dynamics in the world oil market. In this respect, Ghanaian refiner TOR is a "price taker" and has very little influence on the price they pay for crude oil. Using more expensive crude oil (lighter, sweeter) requires less refinery upgrading but supplies of light, sweet crude oil are decreasing and the differential between heavier and more sour crude is increasing. Using cheaper heavier crude oil means more investment in upgrading processes.
Different types of crude oil yield a different mix of products depending on the crude oil's natural qualities. Crude oil with a low API gravity is considered a heavy crude oil and typically has a higher sulfur content and a larger yield of lower-valued products. Therefore, the lower the API of crude oil, the lower the value it has to a refiner as it will either require more processing or yield a higher percentage of lower-valued by-products such as heavy fuel oil, which usually sells for less than crude oil.
Ghana started commercial production of crude oil in December 2010. The country's Jubilee oil field produces the high-grade 'Sweet Light' oil. Unfortunately, TOR was not designed to process the light sweet crude oil. TOR's refining plant was designed as a Hydroskimming plant. However, hydro-skimming plants may not deliver high-quality petroleum products as most of their outputs are usually residual fuels. Also, their low-quality output remains a challenge because more consumers are shying away from sulfur-filled petroleum products.
Does TOR have the capacity to refine locally produced crude oil to meet the country's petroleum demands? The answer is No. The solution to this problem has the potential to save Ghana from spending millions of United States dollars in foreign exchange on Petroleum Distribution Companies (PDCs) to import finished products. Interestingly, TOR was refining imported crude oil when Ghana had not discovered oil. So why should TOR after Ghana discovered oil still continue to import crude oil?
For the past decade, think tanks and policymakers in Ghana have proposed restructuring as the solution to TOR's eminent exigencies. This may be true in their submitted context but from a technical perspective, TOR was originally built as a Hydroskimming refinery that cannot refine high-quality crude oil like the locally produced crude in Ghana. We must therefore look at the infrastructural design of TOR and assess the challenges and cost of configuring it to the type of refinery that can best refine our locally produced oil. To fully understand this subject, you will need some education on the type of refineries and their refining configuration capabilities.
Types of Oil Refinery
Crude oil in its raw state is of little or no value until we take it through the refining processes and transform it into various usable products.
An oil refinery or petroleum refinery is an industrial process plant purposely built for the transformation and refining of crude oil into more useful products such as gasoline, diesel fuel, heating oil, kerosene, liquefied petroleum gas, jet fuel, asphalt base, heating oil, and fuel oils. It is an industrial site consisting of several buildings and machinery for manufacturing petroleum products such as petrol, diesel, kerosene, and the like.
Although each refinery has its unique features, it is a massive structure with different components, including the processing and distillation units. Also, it consists of other structures such as storage facilities where refiners store crude oil and refined petroleum products. A complex structure usually built on several acres of land, an oil refinery runs 24 hours a day and 365 days a year. Running a refinery does not only require employing several people to monitor different plant units but also demands enough workforce to cope with its continuous operations.
Depending on the market a refiner is aiming at, each refinery has its unique design to ensure its production conforms to its host country's set standards. There are four types of refineries – topping, hydro-skimming, conversion, and deep conversion refineries.
Topping refinery is a processing plant with a simple configuration. Constructed primarily for preparing raw materials for manufacturing petrochemicals and industrial fuels, a topping refinery serves better in areas where there are less refining regulations. Topping refineries comprise facilities such as tanks, distillation units, gas, light hydrocarbon recovery facilities, and other necessary utility systems.
Hydro-skimming refineries refine better than topping refineries because of the addition of hydrotreating and reforming units to the basic configuration that makes up a topping refinery. Hydro skimming plants can produce refined products from little feedstocks as well as high octane gasoline. Also, it can produce naphtha as well as hydrogen as by-products. The addition of a few other functional units such as hydro-treating, hydro-cracking, and a few others to hydro-skimming refineries make them more efficient than topping refineries. However, hydro-skimming plants may not deliver high-quality petroleum products as most of their outputs are usually residual fuels. Also, their low-quality output remains a challenge because more consumers are shying away from sulfur-filled petroleum products.
Conversion refineries known as cracking refineries are refining plants that have all basic units that makeup both topping and hydro-skimming refineries as well as gas oil conversion units. Also, additional units such as the Olefin conversion plant and coking units are what make them more efficient than hydro-skimming plants. Furthermore, it has an additional beneficial feature which is a reduction in the production of residual fuels. In other words, conversion oil refining plants produce lighter fuels such as gasoline, jet fuel, and diesel. It is worth mentioning that light products are more profitable and environmentally friendly.
Deep Conversion refinery is a combination of all components of a conversion refinery and an additional unit known as the coking unit. The coking unit makes it possible to treat and convert extremely heavy crude oil fractions into lighter products.
When TOR is reconfigured to refine locally produced crude oil, the benefit to the Ghanaian economy will be socio-economically conspicuous including job security, fuel security and an end to forex inflations being used to import refined products which would eventually lead to Ghanaians buying fuel at affordable prices at the pump.
Tema Oil Refinery (TOR)
TOR's refining plant was designed in 1963 as a Hydroskimming plant with an initial capacity of 28,000 barrels per stream day. It was to process light and low sulphur crude oils, such as Bonny Light and Brass River from Nigeria, and Palanca Blend from Angola. In 1977, as part of the first phase of TOR's expansion and modernization program, the Crude Distillation Unit (CDU) was revamped to 45,000 barrels per stream day.
IS IT POSSIBLE?
Yes, it is possible to reconfigure TOR to operate to deliver the desired economic gain with regard to energy security. If Dangote Group can be envisioned to build the world's biggest single-train facility, how much more an entire nation with much capacity to mobilize resources and attract the needed investment from developing partners.
Dangote Oil Refinery is a 650,000 barrels per day (BPD) integrated refinery project under construction in the Lekki Free Zone near Lagos, Nigeria. It is expected to be Africa's biggest oil refinery and the world's biggest single-train facility.The Pipeline Infrastructure at the Dangote Petroleum Refinery is the largest anywhere in the world, with 1,100 kilometers to handle 3 Billion Standard Cubic feet of gas per day. The Refinery alone has a 400MW Power Plant that is able to meet the total power requirement of Ibadan DisCo. The Refinery will meet 100% of the Nigerian requirement for all refined products and also have a surplus of each of these products for export. Dangote Petroleum Refinery is a multi-billion dollar project that will create a market for $11 Billion per annum of Nigerian Crude. It is designed to process Nigerian crude with the ability to also process other crudes.
(Credit : OEC, IES Ghana, TankFarm Nigeria, Dangote.com)
By Justice Offei Jr (Petroleum Engineer I Research Analyst)