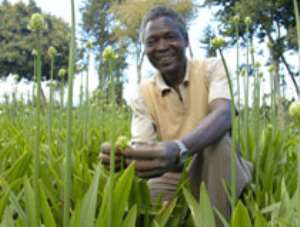 "Being a farmer is like being a priest you take a vow of poverty and make a pact with the Lord that no typhoon will come and destroy your crops" Is such an honour as the immediate past Chief Clerk of students Parliament, University of education, Winneba kumasi campus to join hands with our sear farmers to celebrate this wonderful day set aside in recognition of the major role played by farmers towards the national development goal.
The perception of farmers is one of someone who lives very modestly or even someone who is poor but the reality on grounds is someone who toils with his or her bare hands under the hot sun every day for merger financial returns just to feed citizens so that they will be able to execute their task to make Ghana a better living. The agric sector plays a strategic role in the process of economic development of a country.
The agric sector is the backbone of every country. Increase in agriculture production and the rise in the per- capital income of a rural community together with industrialization and urbanisation lead to an increased demand in industrial production. Our famers need to be celebrated because of their significant contribution to the economic development in the following ways.
Firstly, Farmers work day and night on the scorch sun to provide food and other raw materials to non agricultural sectors of the economy. If farmers fail to meet the rising demand of food products, it is found to affect adversely the growth rate of the economy.
Secondly, the progress in the agric sector provides surplus for increasing the exports of agricultural products. In the earlier stages of development an increase in the exports earning is more desirable because of the greater strains on the foreign exchange situation needed for the financing of imports of basic and essential capital goods. Lastly ,the agric sector absorbs the larger quantity of labour that intends to decrease unemployment which have a negative impact on the economy.
A school of thought do spell out some argument that compare other professions to farming but for the benefit of today let me celebrate our dear farmers because I would have spelt out why farming is the most significant profession on earth in the best of my knowledge. Youth of this 21st century do have a wrong perception about farming notwithstanding the importance of farming mentioned above.
As an admirer to farming I will associate this problem hanging on the neck of youths to inadequate of training, inadequate modernized equipment and wrong perception after my thoroughly research. Many people within the ages of 18- 35 of today channel their efforts in finding white colour job with the mindset farming is for the poor which is far beyond the truth because the rate in which the agric sector contribute to our GDP can not be compared to others. inadequate of modernized equipment is one of the causes that discourages youth from entering into agriculture. We live in a country where cutlass, hoe, trowel and other minor equipments are used in our part of the world.
The development of agriculture requires good roads ,market yards storage and other infrastructures to make the work of farmers very easy. I will plead with the government to make agriculture very attractive by introducing modernized equipment and make a conducive environment for them to operate large scale farming. I am not a farmer myself, but I come from a region where farming is very important and employs many women and men.
As the immediate past Chief Clerk of Students' Parliament, University of Education, winneba kumasi campus.I am working to attract young men and women to the agriculture sector through events and training programs. It is important that older generations of farmers pass down their knowledge to new ones, and that new generations bring additional knowledge and techniques to keep the sector alive and profitable.
I really think it is important to insist on farmer successes stories to attract young people, to show them that young people working in agriculture can be well moderate and live comfortably.
Gideon Opoku Dankwah
Immediate Past Chief Clerk of Students Parliament University of Education,
Winneba Kumasi Campus