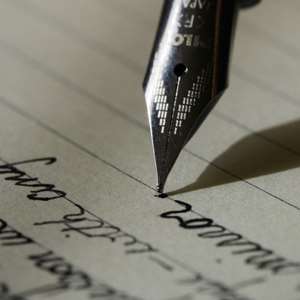 She wants to take Ghana's Chocolate industry by storm -- an XYZ Africa Exclusive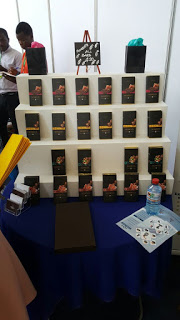 By E.K.Bensah Jr
The first thing almost everyone asks her is whether she is exporting -- to which she answers in the negative.
Meet Managing Director of "The Sweet Art Company" Ruth Amoah. She cuts an affable and vivacious figure, with a passing wistful look of better days when she was not into the chocolate business full-time.
Outside the shores of Ghana, she may be known as a chocolatier, an elegant and superlative title that may be apt for the quality of chocolate she produces. Regrettably, in these parts, the title is not backed by the money.
Her business has been underway for under ten months, but you could be forgiven for thinking that, given the "hmms!" and "aahs!" emanating from chocolate-connoisseurs and alike at the Second Pan-African Agribusiness Conference, she is giving the state-owned Golden Tree a big run for its money. But, Mz. Amoah appears too modest to state it.
She heads a three-man company that is getting orders from all over the country, including ones at the Duty Free at Ghana's national airport, Kotoka International. During my interview, a call kept interrupting us -- it was one of the airport orders.
Pressed on how she produces such fine chocolate, she explained that, thanks to her brother-in-law's farm in the Central Region, she is able to get beans, which she picks, roasts, hand-cracks and grinds before she gets the final product.
Providence has been on her side as far as the cocoa beans are concerned, making it easier for her to get good quality beans over the largely-mouldy ones she has obtained in the past.
It takes some 48 hours for her and her production team of two to process the cocoa, and refine to the succulence we experienced as a finished product. She quips how people generally sell beans, but are clueless on how to make chocolate. This has prompted people from all over to ask her to show them how to make chocolate. Many of these requests, she believes, are in vain: mostly people looking to make quick and easy money.
That's as if to say her journey has been easy. Far from it, for she has had to depend on family, friends, and loans to get to the stage where Duty Free has asked for her chocolate in lieu of the state-owned Golden Tree.
Mz. Amoah quickly whips out her iPad and, with dexterity, takes me through a maze of pictures to her instagram page, where she explains how her chocolate was ordered by non-governmental organization Solidaridad for their work in Liberia.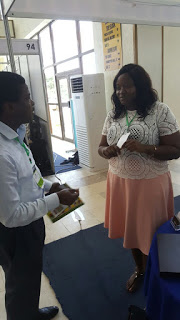 The Solidaridad and duty-free orders speak to a company that is making profit from customized orders and recommendations. This could not be further from the truth as she confesses to being indebted because any little money she gets is obviously reinvested, and given her manpower, that's a significant constraint that reduces her profit margin.
She's ecstatic for the appreciation she receives, including the requests for partnership, and exports, but she is facing an uphill struggle of reconciling the demand with the supply. It is a recondite fact that, with a business this young, it is not going to be able to scale up to the level the state-owned Golden Tree has gotten. She needs money, and lots more. It could be through an angel investor, or simply any investor ready to support her to scale up.
Asked whether she might consider the commercial banks, she answers with a firm no, as they are wont to complicate and frustrate potentials who go seeking loans. She laments how, apart from the length of time spent chasing a loan, the documentation the banks will ask of you remains this side short of a headache.
Quizzed on what she did on International Cocoa Day a few days ago, she chuckled, explaining how government policy may want to do a re-think and shift emphasis from National Chocolate Day(celebrated on Valentine's Day each year since 2006) to the International Cocoa Day. She believes government could have been more strategic in supporting and boosting cocoa by rather-hyping this day.
Does she have any expansionary ideas? For now, it's about exporting to other markets, with a preference on Southern and Eastern Africa. She would say "absolutely, buy made-in-Ghana chocolate! We are the second largest.producer of cocoa in the world. Finally, we have the best-tasting chocolate" she adds.
Hope for the future is what Mz. Amoah possesses a lot of: certainly daunted by the prospect of out-competing the state competition in Golden Tree chocolate, which one non-Ghanaian working in one of the sponsor organisations for the conference called "horrible", she believes she can make it.
For someone who quit her full-time job to jump into this venture, one might say while her nine months has been a bitter-sweet symphony, she is poised now, more than ever, to seize opportunities like this Agribusiness conference to further-promote her eight varieties of chocolate, with a value chain that strategically integrates tourism with chocolate.
#aaintsb
Emmanuel.K.Bensah Jr/XYZ Africa News@8/Africa in Focus Show/Radio XYZ93.1fm
*The best 10-minute news from across anglophone & francophone Africa on Radio XYZ93.1FM in Accra, Ghana. We offer mini-features under "Focus". Original content guaranteed weekly! Weekly review assured on Fridays. Look for #xyzAfrica on soundcloud.com. On air Sundays-Fridays at 8pm on www.radioxyzonline.com
*The "Africa in Focus" Show is hosted by Emmanuel.K.Bensah Jr from 14h05 to 15h00 every Wednesday on RADIO XYZ93.1FM. Since May 2014, it has been offering compelling, cutting-edge content that seeks to demystify, educate, and unpack ECOWAS, AU, & South-South Cooperation around Africa's integration.
*You can download all podcasts from www.africainfocusradioshow.org . Follow the conversation on twitter on @africainfocus14, using #africainfocus. Contact Emmanuel on 0233.311.789/0268.687.653