Anas petitions IGP to arrest two retired judges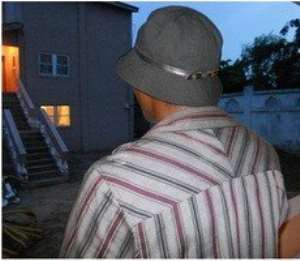 Investigative journalist Anas Aremeyaw Anas has petitioned the Inspector General of Police to arrest two retired judges caught on camera allegedly receiving bribes.
The judges are Justices Yaw Ansu Gyeabuor and Justice F.K. Opoku who are among 12 High Court judges filmed allegedly receiving bribes to influence the outcome of some cases before them.
The fact that they are on retirement means that impeachment proceedings cannot be instituted against them as is the case with the other ten judges, but Anas has petitioned the IGP to cause the arrest of the two.
A petition dated September 28, 2015, signed by Anas, addressed to the IGP and copied to the Attorney-General, said "I, Anas Aremeyaw Anas, in my capacity as a citizen of Ghana, and by profession an investigative journalist and a lawyer, humbly file this petition, requesting for the investigation and arrest of Justice Yaw Ansu Gyeabuor (rtd) and Justice F.K. Opoku (rtd)."
Anas said "I have information that the two retired Justices of the High Court may possibly leave the jurisdiction due to the ripple effect of the documentary 'Ghana in the Eyes of God."
Anas shocked the nation weeks ago when he released video footage of some judges allegedly receiving items ranging from yam to goat as well as money in order to free suspects.
Justice Paul Dery, one of the judges implicated in the scandal has filed an avalanche of writs to prevent the screening of the video at the Accra International Conference Centre.
Anas and his lawyers, however, insisted that they had a contract with the Accra International Conference Centre and therefore had a right to use the facility.
True to this, the screening came off as promised and many Ghanaians queued at the conference centre to watch the video.
However a similar screening in Kumasi, the Ashanti Regional capital has been halted.
This followed an injunction application filed by Paul Dery against the Golden Tulip Hotel in Kumasi, the venue for the premiering of the investigative piece.
Anas confirmed in a facebook message that he and his team had been served with a writ seeking to halt the screening.
Meanwhile, the Chief Justice Georgina Theodora Wood has vowed to cleanse the judiciary in order to restore public confidence.
She said the legal profession is a noble one that has been handed down to legal practitioners by their forebears who toiled to nurture its reputation.