Untold Story Of Mahama Gunman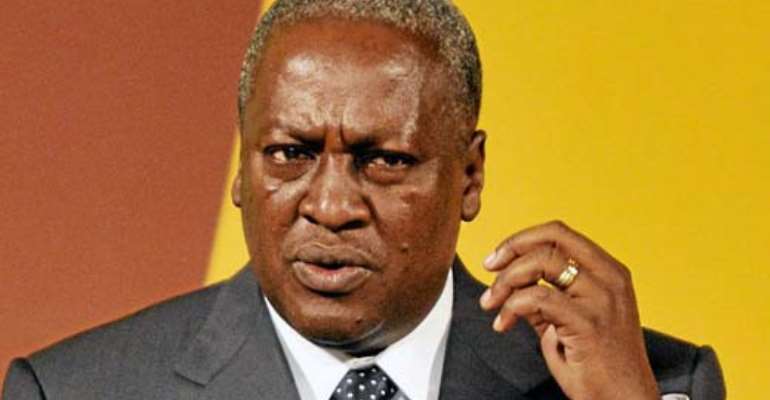 He dominated the headlines and suddenly landed into the limelight for carrying a locally made pistol into the church in which the President worships.
Charles Antwi, 36, whose action, trial and subsequent conviction travelled like wild fire across the country and beyond, is believed to be psychologically unstable.
Although Charles, whose 10-year jail term resulted in many Ghanaians lambasting the trial judge, Francis Obiri, is now known by many Ghanaians, there is more to unravel about the gunman who sought to end the President's life and tenure.
Your most authoritative paper, DAILY GUIDE, therefore set out to dig deeper into Charles' background from Dadiesoba, far away in the Asutifi North District of the Brong-Ahafo Region, where he hails from and lived with his immediate family.
Sunrise
Born to Madam Afia Agyeponmaa and the late Kwodwo Osei, Charles, as he is affectionately called in the town, is the seventh of eight children—three males and five females.
They are Kwame Opoku, Kofi Akom, Akua Monimaa, Yaa Twumwaa, Nyantekyiwaa and Yaa Amponsah.
Charles, whose aunty and brothers jokingly referred to him as the 'President', attended Dadiesoba Presby Junior High School (JHS) which he completed in 1999.
After that he went to stay with his eldest brother, one Kwame Opoku, in Kumasi for a year.
Described as calm, Charles never nurtured any presidential ambition during childhood, until he was deported from Libya, whereupon he started saying he would overthrow Muammar Gaddafi, the late Libyan President—a position his relatives attributed to the physical torture he might have suffered at the hands of Libyan soldiers.
Determined to succeed in life, Charles, after a short stay in Kumasi, came to Accra and embarked on another deadly journey through the Sahara desert to Libya. He was said to have made the journey through Spain to Italy this time around, but was allegedly deported to Ghana because of ill health.
The family did not set eyes on Charles again until he returned to Dadiesoba two year ago with the mantra, 'I will kill Mahama; I will kill Mahama.'
Charles The Cabbie
Despite Charles' unstable mental state, he purchased an Opel Astra 'B' Saloon car with the registration number AE 2241, which he registered with the Dadiesoba Taxi Drivers' Union and shuttled between Dadiesoba and Goaso.
The paper further gathered that an interesting characteristic of the Mahama gunman's driving prowess was his penchant for overspeeding.
Kwaku Atta aka Agyata, the GPRTU chairman, said Charles' speedometer was always at 180 so he had to be banned from driving because of the safety of passengers.
Charles later bought a motorbike but his love for it, or perhaps to prevent thieves from stealing it, compelled him to tie it to his leg whenever he wanted to sleep.
Also, Charles decided to expand his bedroom to accommodate his car, a decision that clearly confirmed to his relatives that he was mentally ill.
Presidential Ambition
All this while, Charles continued to proclaim himself president and even promised one of his cousins, Yaw Agyapong, the position of vice president with a monthly salary of GH¢20 million.
His close allies were also not left out of Charles' appointments as they were promised police vehicles to become police drivers.
'I believe by now you are clear as to whether there is the need for medical examination or not,' a resident said, stressing that 'Charles might not be well so leaving him to chance may be a mistake.'
Perhaps this resident's position stems from the saying that 'if a blind man says he will throw a stone at you, you should be careful because his foot might already be on one.'
Rehearsal
Apart from issuing threats that he would overthrow Gaddafi, Atta Mills and Mahama, Charles went on to acquire a gun and, together with a friend, began rehearsing how to overthrow Mahama and his government by River Tano which runs through Dadiesoba.
In the course of their rehearsals, Charles injured one hand of his friend, whose name the GPRTU chairman could not readily recollect.
False Claims
Meanwhile, it is important to point out that there is no iota of truth in the claim that Charles had a girlfriend at Dadiesoba.
According to his relatives, Charles never had a girlfriend or love partner. Indeed, as an aunty of his, Ama Serwaa, aptly put it, '…the person is not correct so which lady will accept his proposal?'
Also, Asiedu Nketia's claim that Charles' aborted mission was politically instigated is nothing short of a false alarm worthy of no sane person's attention. It might interest Asiedu Nketia and his ilk to know that Charles has never voted in any election(s), let alone joining any political party.
NDC Connection
The interesting thing is that almost all members of Charles' household are NDC sympathisers, including Afia Agyeponmaa, his mother.
Collins Dauda, Minister of Local Government and Rural Development, is even married to one of Charles' uncle's daughters. Charles' mother said the lady, Asana, could even testify to her son's insanity.
A 56-year-old farmer and native of Dadiesoba, Ibrahim Boateng, expressing his opinion on the matter, said Charles could sit at one place for the whole day without talking to anybody.
He stated that what still baffles everybody at Dadiesoba is how Charles was able to locate where President Mahama worships and went there to lay ambush to kill him.
A Mother's Plea
A distraught Agyeponmaa is yet to come to terms with the circumstances leading to the conviction of her son.
She told DAILY GUIDE that her son is not mentally sound and that Charles had previously been sent to a medicine man at Tanoso, a suburb of Sunyani, to be cured.
She explained that Charles' tongue started sticking out after taking a few medicines so he ran away.
Agyeponmaa said she later learnt her son went to Libya but was deported because of his mental illness.
'Charles is sick; we are poor, so if government can assist us to cure him we shall be happy.
'We are all NDC people so why will Charles want to kill our president?' his mother wondered, pleading, 'Please forgive him, for he did not know what he was doing.'
Appeal
Meanwhile, an Accra Human Rights Court will on August 21 hear an appeal expected to be moved to quash Charles' 10-year jail term verdict.
Lawyer Francis Xavier Kojo Sosu, a human rights lawyer leading the crusade, is seeking to reverse the decision of the lower court which sentenced Charles for possessing firearms without lawful authority.
Among the grounds for the certiorari application is the fact that the convict's right to have a counsel was breached as Charles argued the case for himself.
Hours of psychiatric evaluation conducted by a Professor of Psychiatry shows that Antwi is not mentally sound.
Our sources indicate that even at the Bureau of National Investigations (BNI) cells, Antwi has consistently demonstrated that he does not have the requisite will to commit the offence for which he was convicted.
Due to his mental state, operatives of the BNI have still not transferred him to Nsawam prisons where he is supposed to be.
Lawyer Sosu is of the opinion that the convict clearly demonstrated through his actions and utterances that he was mentally sick, noting that the convict even promised him financial benefits once he became president.
He explained that the convict did not have the requisite mental ability to plead to the charge levelled against him as he is mentally challenged.
Sunset
Until August 21, 2015 when the court will decide where Charles rightfully belongs, his fate continues to hang in the balance as 'pocket lawyers' continue to debate the issue in vague and distorted forms with regard to whether or not the judge erred on point of law in convicting him.
[email protected]
From Daniel Y. Dayee, Dadiesoba