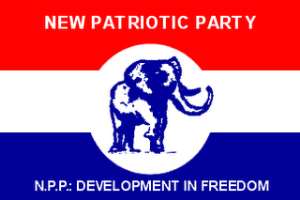 'The beauty of Israel is slain upon
thy high places; how are the mighty fallen!
Tell it not in Gath, publish it not in the
streets of Askelon, lest the daughters of
the Philistines rejoice, lest the daughters
of the uncircumcised triumph'
2 Samuel 1:19
DAVID LAMENTED the death of Saul and Jonathan, and wondered how the previously powerful men had been humbled. 'O howe are the mightie ouer throwen'? And he was apprehensive of the news spreading into Philistine territory for them to mock the Israelites.
The recent parliamentary primaries held by the National Patriotic Party (NPP) (Saturday 13th June, 2015) were as much episodic as they were poignant. At the end of the exercise, some otherwise powerful men (and women) were 'reduced', and their places taken by hitherto unsung men (and women). This should make those who do not wish the NPP well celebrate and jubilate. It is like Nana Ampadu's song in which the weakness of the impregnable tortoise was exposed when its mother asked it to lie on its back to be caned on the belly.
Issac Osei, Dr Owusu Afriyie Akoto, Francis Addai Nimo, Dr Richard Anane, Simon Osei Mensah, Kokofu, William Ofori Boafo, Esther Obeng Dapaah, Elizabeth Agyemang, Frank Boakye Agyen, are no doubt, big names in Ghanaian political circles. However, these persons were 'felled' just as a policeman ordered some students who had sought refuge on a tree during a botched student demonstration in the 1970s. The policeman ordered: 'Hey, fell or I fell you!'.
The electors had several reasons for 'felling' some of the candidates. One of the major reasons for this is the failure of the MPs to fulfill certain contracts they had entered into with certain personalities within their constituencies. Earlier, they had promised potential candidates of not vying in 2016 if they were allowed to go in 2012, but quickly reneged on these promises and turned to put in their bid for 2016.
Another accusation was that some of the MPs had cocooned themselves into their shells, not making themselves approachable, within their constituencies. There are several other reasons in relation to particular constituencies, for whatever happened. But as a friend used to say: 'It ha happened.' So, it has happened, and everyone is expected to accept the results as QED ('given').
Among those who won the primaries, one classy contestant was Francisca Oteng Mensah, a second year law student of the Kwame Nkrumah University of Science and Technology. This young lady, like Britain's Margaret Thatcher, only 22 years of age and a student, beat such political stalwarts as Honourable Kofi Frimpong (the incumbent MP), Lawyer Osei Poku and an ex-Army officer. There is no doubt that her father, Kwaku Oteng, MD of Angel Group of Companies, played a yeoman's role in his daughter's victory. Congrats young woman: but a hard task lies ahead. Now, the focus is on you. You will realize that the independence and privacy you used to enjoy will be gone. The least move you make will be highlighted—whether positively or negatively. Be nice to all persons in your constituency, including your competitors. Good luck.
Peeved over the alleged bribery of delegates, resulting in their defeats, a number of contestants have threatened to go 'independent'. These people are like wounded lions. And like the wounded lion in D. Francisco de S. Maspons Labros's 'Cuentos Populars Catalans', they would do all in their might to see the defeat of the parliamentary candidates. What they need now are comforting words not hollow threats. They need not be threatened with 'sacking' from the party. Each person entered the race with high hopes, each expecting to win - but that was not to be. Some have gone to radio stations to bare their hearts out, saying 'there's no turning back' in their resolve to go independent. There are rational questions to ask such people, but at this crucial moment, it is unsafe to do just that. The victors should extend a hand of friendship to the losers: the executives should be proactive in this regard.
Let the losers feel as important as they are; they should be given the assurance that their votes are vital and when the party wins, they stand the greatest chance of getting important assignments. Besides, the chance will avail them once again - so long as they have breath - it is not a 'life - and death' matter.
What the party should do once again is to ensure that monetary considerations do not play any more part in future primaries. Of course, an occasional lunch and money for transport would not be called a 'bribe', but as confessed by some of the winners themselves, and corroborated by Kwadwo Owusu-Afriyie, padded envelopes were dished out to the delegates. As Sir John himself stated, delegates must be feared, because they are terrible creatures. The curses should subside, and party men should be careful not to resort to the media.
If any reforms will be considered, it will lie in the expansion of the Electoral College - give the chance to any card - bearing member of the party within a constituency to elect a parliamentary candidate. It will be difficult to bribe as many as 5,000 people to vote for one. The party may be growing, and it is necessary for the experiences it is passing through to inform the members of a review of the party's constitution.
I sympathise with some of my friends over their defeat—people like Professor Ameyaw Ekumfi , Kofi Frimpong, Issac Osei, Dr Richard Anane, Dr Owusu Afriyie Akoto, Captain Effah - Dartey, Frank Boakye Agyen, Kokofu and Elizabeth Agyemang. I celebrate with joy the success of some of my friends, including Joe Osei -Owusu, Osei Kyei Mensah Bonsu, Lawyer Arthur Dadzie and Owusu Aduomi. To those who went unopposed, including hard-working Dr Matthew Opoku (Napo), and benevolent Kennedy Agyapong, we say congrats. We pray that Kofi Jumah goes through the court case successfully, and comes back to lick his wounds in peace, instead of suffering 'double agony'.
In Lord Alfred Tennyson's 'King Arthur and the Knights of the Round Table', the legendary 6th Century King of England, King Arthur tells his faithful servant Bedivere before he vanishes into thin air: 'The old order changeth, yielding place to new And God fulfils Himself in many ways, lest one good custom should corrupt the world. Comfort thyself: what comfort is in me? I have lived my life, and that which I have done may He within Himself make pure! But thou if thou shouldst never see my face again, Pray for my soul. More things are wrought by prayer than the world dreams of, Therefore let thy voice rise for me both night and day….'
Immediately after the primaries, the flagbearer of the party, Nana Akufo-Addo, spoke: '…the high level of participation, enthusiasm and camaraderie that the elections generated among our activists gives an indication of our collective energy and commitment to the struggle ahead in 2016…it is for us to show (Ghanaians) that we can win the 2016 elections, so that we can take our nation out of the desperate conditions into which she has been plunged and put her back onto the path of progress and prosperity…internal political contests are not about winners and losers. They are about the party winning…rally behind the respective parliamentary candidates to strengthen further our resolve and singleness of purpose to capture power in 2016…I also appeal to those who were successful on the day to reach out and bring on board their fellow aspirants who did not win and also urge the unsuccessful aspirants to reciprocate the gesture…'Need anyone say anything more?
Africanus Owusu-Ansah
[email protected]