A Letter To My Future Wife: Before We Say I Do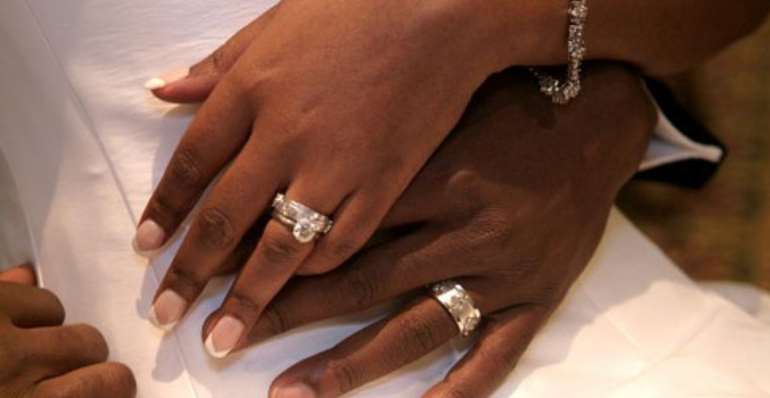 Dear,
Please since I don't know the goddess that will deliver you to me when the time have actually arrive for our nuptial compatibility, can I start by sharing a story I heard when resuming manhood?. Thank you. Have you heard of the couple that got married and just after 92 days of marriage the Adamic nature in the man cropped up and when the woman ask him, were you not the one who said I DO no matter what? Please do you remember what the man said? He replied the wife " the pastor said I should say after him so I also said after him". You knew the results? The proposal started on wats app , the disposal also ended on wats app, the green page created by Mike Zuckermberg for information dissemination.
I should say am very much elated to have read your swift reply on the make- up aspect in my missive delivered to you on this very blue page. I know you may be unhappy with this myriads of letters crossing your desks and sight each moment just because of a nuptial ceremony, but its just because I don't want to be a victim of a divorce reference. Its because I want to cut the sword in 2017, ( Why eeeeeeiiiiiiiiii)? Is it farfetched or too near. Anyway let me break it down for you, what I meant was in 24 months time I want to be called your better half.
Honey I read an article written by my mentor Columnist Manasseh Azure captioned " treat me like your husband". And there are heavy duty issues in there I wish I could share with you before we say I DO in the very presence of God and the servant. Our people say upon the wreckages of yesterday we lay a good foundation for a better tomorrow. Sweetheart, if we fail in marriage then we have not learnt anything from our predecessors, hence we deserve double punishment. But something scared me from the scriptures and I want to quickly share with you because I don't want to see you in that category of women. Please for the sake of technology can you Google Proverbs 25:24: IT IS BETTER TO BE ON A ROOFTOP THAN ON THE SAME COMPOND WITH A NAGGING WOMAN. Hmmmmmmm
Honey, please don't get me wrong , am not saying you a nagging woman but I just want us to get things right before we try to do the right thing. If you remember very well in July 2013 I changed my displayed picture (d.p) on the green page (wats app) and its reads " I have been through a lot already, I should enjoy marriage not endure marriage". Honey am not saying you are a nagging woman or would be a nagging woman, am only saying make sure you are not because the meaning of nagging scares me. It reads NAGGING- a person who consistently complain and criticize everything. Sweetheart am only hoping you won't say what kind of marriage at all are you coming into that there are lots of rules and regulation. But before I state the two things that you should live behind am going to pinpoint some issues we need to deal with before we meet. Please just get this straight that hen- pecking anything I do in marriage won't lead to conflict resolution but rather conflict uproar.
Pride, Ego and Selfishness. Please Honey I know you might be saying then I should get an angel to marry, but please the divorce rate in Ghana scares me a lot. Have you heard that about 600,000 thousand marriages collapse in this country despite our religiosity and sanctity, in the report submitted by the Ghana Statistical Service on the divorce rate in 2014. The reason why am mentioning these three things is that they are the major ingredients in collapsing any marriage. Ego, Pride and Selfishness in my village is equated to witchcraft. Please I am only reminding you. Now let's take it one after the other.
To begin with, before We say I DO, just remember and I quote my aforementioned mentor " your bizarre love and appetite for restaurants food must not follow you to my house". Honey am not saying that we won't eat in a restaurant anymore but I only meant that the normalcy of us eating with fuck and knife in an air-conditioned room whiles been served by young men and women dressed like Scottish gods and goddesses should end in your mind before we approach the alter. Why am I saying this, its because a husband you cannot serve, you don't deserve. Am not also saying the kitchen would be your permanent domicile like some archaic but quite sensible philosophies proposes. I will certainly prepare my normal rice water and Jollof rice when I get home early before you.( Thanks for the smile).
A group of young graduate ladies had some visiting lecturers from abroad and they were to write exams and make some pragmatic appraisals of their handy works so far as home science is concern. The first questions reads: What is your best meal? The ladies were naming foods like Cauliflower Shawarma, Tacos de Salpicon de Pescado, Classic Cabbage Kimchi, Griddle Asparagus, Piperade, Poached eggs and Grits Pomelo Salad. Hmmmm with my little knowledge in Agricultural from high school, I thought it was botanical names but I realized they were foods on menus of restaurants. Okay, so the next question that will qualify these pretty ladies for the final round reads: With practical demonstration prepare the first three of your best food mentioned above?. Honey please do you know the kitchen was opened for 3 hours and none of these ladies stood up to go and demonstrate how these foods were prepared ( it is not funny, please don't laugh). And the worst of it all was that " No cancellations". Honey, if am not exaggerating, Tears, fear and pool of sweats was cascading these young ladies like the Niagara falls. This is the embarrassment I want to avoid when my in laws visit us. I am comfortable with the kontomire stew, the banku and ademli daakye, and the one that we the refined fantes like best" Fufu and Ebunu bunu". I would be more comfortable with these ones than trying to put leafs and creams together to make me happy. Secondly, I wanted us to talk about your EX, that is if you have one and if you deny we will talk about your NEXT. Without further ado, let me just end here and extend my regards to my prospective in-laws.
Your man,
R. Duafah
([email protected])