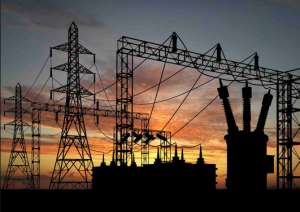 The energy situation in Ghana is undoubtedly crippling for industry and and individuals alike, especially for those of us who do not use generators. (As a social Democrat, and on a matter of principle, I decided not to use a generator at home out of respect for the many Ghanaians who are not in a position to turn on a generator each time their light goes off).
Each blackout leaves in its wake some amount of discomfort. People have reportedly died, directly or indirectly resulting from the energy situation. In my home, my kids have heat-rashes, my wife, who's learning for an exam can't study at night and personally, I get exasperated each time my lights go off.
For several years, I slept just a couple of hours, spent pretty much of the night working, and it's so hard to get out of that routine. Imagine waking up at midnight and spending hours staring at the roof in sweltering heat because you would either be inviting armed robbers or mosquitoes if you dared open your windows. Without electricity, it gets so hot it even kills sex-drive.
Every Ghanaian, including members, business owners and sympathizers of the governing National Democratic Congress, NDC, are feeling the debilitating effects of the energy situation. And that's why it's so unfortunate and repugnant when politicians play the politics with the issue, and create the impression that only non-NDC members and sympathizers feel the effects of the energy situation Ghana is facing.
Opposition New Patriotic Party Member of Parliament for Ablekuma West is reported as saying, there's a deliberate attempt to cripple businesses in the South of Ghana because the Northern Regions, Volta & Brong Ahafo hardly experience black-outs.
This is very divisive but not surprising, coming from an opposition MP whose claim to fame is hopping from one media house to the other, begging to be interviewed, and making bigoted comments when she gets the chance.
For the education of the MP, the amount of energy shed in the three northern regions and Brong Ahafo, put together is insignificant to the national grid. Brong Ahafo region consumes 103.2megavolts daily, and the three northern regions put together consume 130.9megavolts daily. But the daily amount of power shed for the whole of Upper East, Upper West, Northern and Brong Ahafo Regions put together is 30megavolts. For security reasons, they do not put off entire towns, cities and regions.
And so even if you shed power in these regions daily, it won't be exactly 30megavolts, as some areas will have light and others won't, and in real terms, shedding 2megavolts per day from say Tamale, which consumes 47.7megavolts daily, is so insignificant it won't make any difference elsewhere.
It is precisely the politics of finger pointing and point-scoring that has kept the New Patriotic Party in opposition since 2008. Beyond scare mongering, the NPP has no answers to fixing the energy situation; there's no oomph to their propaganda; no hint of what kind of Ghana they want to create beyond their needless attacks on John Mahama, his family and Northerners generally.
If the NPP had done what John Mahama is doing today when they had power for 8years, today would have been "dum-sor-less." We have learned from past mistakes, and the solutions the John Mahama led NDC seek are not quick fixes.
I do not seek to suggest that the NDC government is perfect. Indeed our government has its share of problems, but at least there's a sense of purpose.
The NPP on the other hand is an organized hypocrisy, they don't have a plan for the energy situation; they are not prepared for government, and judging by their flip-flopping, they are not even prepared for opposition. And if you want a glimpse into what an Akufo-Addo presidency would look like, look no further than recent events in the NPP where people with dissenting views have been hounded; where some regional and national officers of their party show crass indiscipline.
The only reason Nana Addo seeks power is to make a point that, it is he, the do-nothing leader of the opposition - a man who grew up in a secure world of economic wealth and privilege - and not John Mahama - a northern boy from Bole - who ought to be President of Ghana.
Nana Addo's constant attacks on the President and the government has nothing to do with the country's challenges, it is about his political future. The New Patriotic Party has no policy alternatives. Their policy on energy is to do nothing; their policy on the economy is to do nothing. Their policy on creating jobs is to do nothing; theirs is the do nothing political party.
Central to fixing the national problems we face is, an all-party approach and not the tin-pot petty partisanship exhibited by the leader of the main opposition party and his lackeys like the MP for Ablekuma West.
"Dum-sor" is hurting, but attempting to score political points in a matter you do not even care so much about to give an alternative policy position, amounts to scaremongering and cheap act of point scoring.