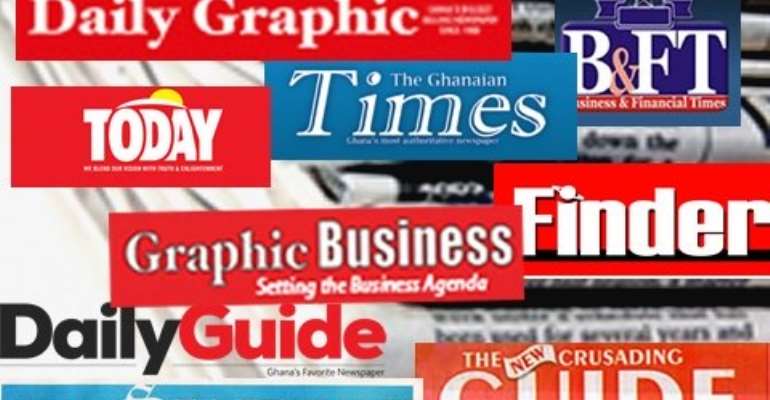 7 ARRESTED FOR SIM BOX FRAUD
In line with efforts to champ down on the operation of SIM box fraudsters, the Anti-Telecom Fraud Task Force has arrested seven more persons for allegedly diverting international calls through SIM box machines mounted in their rooms.
DEATH OF BRITISH WOMAN BLAMED ON HEROIN OVERDOSE
An autopsy report on a British woman who was allegedly murdered by her husband in a hotel in Koforidua has blamed the cause of her death on heroin overdose and acute poisoning.
GHANA WATER COMPANY ON WARPATH
The Ashanti Regional office of the Ghana Water Company Limited (GWCL) yesterday disconnected water supply to three public institutions because they owe the company Ȼ7.3 million.
MINISTER EXPLODES OVER "FILTHY CASH AND NUDE PHOTOS"
The Deputy Minister of Trade and Industry, Ibrahim Murtala Mohammed, has made shocking revelations about how his unnamed rival and a minister in the Mahama Administration tried setting up a colleague cabinet minister using a woman.
HEROIN KILLS PASTOR'S WIFE
The autopsy report on Charmaine Speirs, the British wife of Pastor Eric Isaiah Aduah of the United Kingdom-based Global Light Revival Ministries, who died in a bizarre circumstance at a hotel room in Koforidua, is out.
OPOKU WARE OLD BOYS PROTEST HEADMASTER'S AGE
Confusion has erupted between the Old Boys' Association of Opoku Ware Senior High School in the Ashanti Region and the headmaster of the school, Fidelis Matthew Oppong-Mensah, over his age. Members of the association have accused him of deceit and forgery.
2 MEMBERS OF NDC ARRESTED BY BNI
The Bureau of National Investigation (BNI) has arrested two sympathizers of the National Democratic Congress (NDC) for allegedly soliciting funds from people in the name of President John Dramani Mahama.
AKUFO-ADDO, NDC IN TUSSLE OVER TARGETED 1 MILLION ASHANTI REGION VOTES
The one million votes targeted by the National Democratic Congress (NDC) in the Ashanti Regional have sparked an intense war of words between the party and the New Patriotic Party (NPP).
NIGERIA'S GOODLUCK BLOWS $5B ON VOTE BUYING?
During Nigeria's recent electioneering campaign the All Progressive Congress President Goodluck Jonathan of "shifting N1 trillion ($5 billion) from the public coffers to fund his campaign of buying over traditional rulers and some major interest groups", the online news website Vanguard has reported.
AKUFO-ADDO: GHANA IS RETROGRESSING UNDER MAHAMA
"Ghana is retrogressing under the Mahama government. All the gains chalked by President Kufuor have been eroded within 6 years of the NDC government taking over the reins of office. We have a duty as members of the NPP to make sure Ghana works again and we have no choice but to win the 2016 election" flagbearer of the NPP Nana Akufo-Addo has said.
GHIPSS DECLARES NSS PAYROLL 90% CLEAN
The Ghana Interbank Payment and Settlement Systems (GhiPSS) is confident the payroll of national service personnel is now almost clear of 'ghost-names' three months into payment of service allowances through the e- zwich payment platform
'IMPOSE 20% TAX ON PALM OIL IMPORTATION'
The economy stands a chance of raising approximately US$20 million annually if government is able to impose a 10 percent adjustment tax in addition to the 10 percent ECOWAS Common External Tariff (CET) on importation of crude palm oil (CPO), BFT has been told.
ADDITIONAL TAXES ON BANKS COMING
Cabinet has approved a new levy to be imposed on financial institutions to serve as a revenue stream to bridge the financing gap of the National Health Insurance Scheme (NHIS)