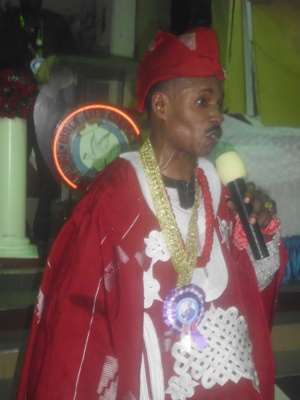 The recent birthday bash celebrated by our dignified and renowned bishop of Nigeria, Bishop (Prof.) Leonard Nwaoma Umunna,the Senior Pastor and the Presiding Bishop of Bible Life Church Cathedral(BLCC) International at Fasasi Street in Ajeromi-Ifelodun Local Government Area of Lagos State was an indication of one great servant of God who paid rapt attention to his calling without questioning God for taken him to the slum city of Ajegunle.
It was a gathering of galaxy of ministers of God,lawyers,journalists,motivational speakers, educationists, business moguls, top security officers,musicians and music producers to celebrate one man called Bishop Leonard Umunna whose ministerial lifestyle is worthy to be emulated. The Mindset scorecard of Bishop Umunna was read in the admiration of everybody that sees him not just a father but a mentor to behold.
He has affected many lives in all ramification.At 60; Bishop Leonard Umunna looks younger than his age and sees 60years as just a number but ready to do more exploits for the kingdom of God. He has explored his potentialities to affect lives not just living a fulfilled life alone but numbers of people affected while living.
At the Bishop Leonard Umunna television channel cum red carpet services which was co-ordinated by the Mindset Media Limited crew on some dedicated members and special guests who saw Bishop Leonard 's exemplary lifestyle and diamond jubilee as become a cynosure for young ministers of God to emulate in Nigeria. In course of interviewing some of the prominent Nigerians and members of Bible Life Church that graced the diamond chaplain general, everybody eulogised the indefatigable servant of God with courtesy.
According to Hon.Adeogun Adewale, the present Education Secretary of Ajeromi-Ifelodun who was one of the red carpets of Mindset Media Limited and Bible Life Church special guest said Bishop Leonard Umunna is a great man of God with integrity. I have been reading about Bishop Leonard Umunna in the Commoners newspaper over the years and I did not have opportunity to meet him personally. Some people prevented me not to see him. Until last year when he celebrated his golden jubilee on the pulpit when I was invited and I came late and he received me well. Bishop is one of the pastors that God really called to shepherd his people.
His meekness is commendable to be emulated. I only received a text message and decided to come. I learnt that 50 percent of pupils and students in his school are on scholarships without collecting school fees from them as a private setting. With what I saw today again, nobody will tell me negative things about Bishop Umunna that I would agree. He is a brilliant servant of God with credibility. I humbly received his prayers because he is a servant of God with divine call to liberate Ajegunle city and Nigeria as a whole.
Pastor Solomon Imasun, a renowned educationist cum scientist who also doubles as one of the Bishop Leonard Umunna branch pastors said Bishop Umunna has unbeatable legacies in the sands of time. I am an actor but he is the father of church drama. One thing surprised me when Bishop Umunna lost his dear wife and he conducted the church service without any grief in his mind. Even when, the church had some problems where all the ministers deserted him and he encouraged himself with others that stood by him.
He always listens to the voice of God before carrying on any ministerial assignment in his life. Bishop Umunna is a man of large heart and nothing else. If Bishop gives you appointment by 9am, he is already there before you. He is a man with his words and ready to do his own thing without coping or emulating others. Bishop Umunna is qualified for Archbishop at any given time but he has told us many a time that every thing he does is under the direction of God not man.
Evang. Lucy Yunus, a present serving female Nigerian police officer and also doubles as the chief security officer to Bishop Leonard Umunna said as a trained police inspector over the years, I have not seen such a wonderful pastor in my life. When I came to Bible Life Church, I was nobody and until Bishop Umunna made me somebody. My four children are graduates today and they are all in abroad doing well in their chosen professions. All his prophecies concerning my life have come to past. I took the church security as my own job. Several attempts to kill him by hired assassins but I used my position to protect him through God's power. Bishop Umunna is my father, mentor and everything about me. I wish him many more years on earth for us as Bible Lifers.
Chief Ogbona, a trained photographer also said Bishop Umunna brought me out of wicked poverty. Everything about me was at the zero level and until I was introduced to Bishop Umunna and he gave me fasting and praying to solve my problems. When things went upside down, I started riding Okada and just decided one day that I would not ride Okada again and Bishop Umunna made my life and today I have a car and my in-law that never wanted to see me because I married from a Muslim home has reconciled with me. Bishop Umunna is a real man of God.
Pastor Alex Great, a motivational speaker who also fellowship with Bible Life Church said Bishop Umunna is my father. For what I do in life, it is difficult to make a living but he encouraged me by putting my best on the profession. He is a great leader with evidence.
One of his former pastors who now own a church cathedral in Ikorodu, Lagos State said I cannot do without Bishop Umunna. I went through his Bible Academy and today God has blessed me abundantly in ministry. I was nobody when I joined this church, so Bishop Umunna is a man with great vision. I wish him many more years on earth for us his sons in Christ.
Godspower Arere,a seasoned graphic artist said Bishop Umunna has a wonderful church. He is a great pastor I have met in my life. When Pastor Godday Odidi of Mindset Media limited initially told me about this pastor I thought it was one of the showman Ajegunle pastors but he is different from others. His humility is worthy to behold. No pastor in Ajegunle has displayed Bishop Umunna's style of ministry since I have been covering church programmes. He practices what he preaches. Can you image the plethora of testimonies given by members of the church? There is God in Bible Life Church, he said.
Godday Odidi
Public Affairs Analyst
08058124798, Lagos