Fashola: Olorunda LCDA Is The Worst LG In Lagos State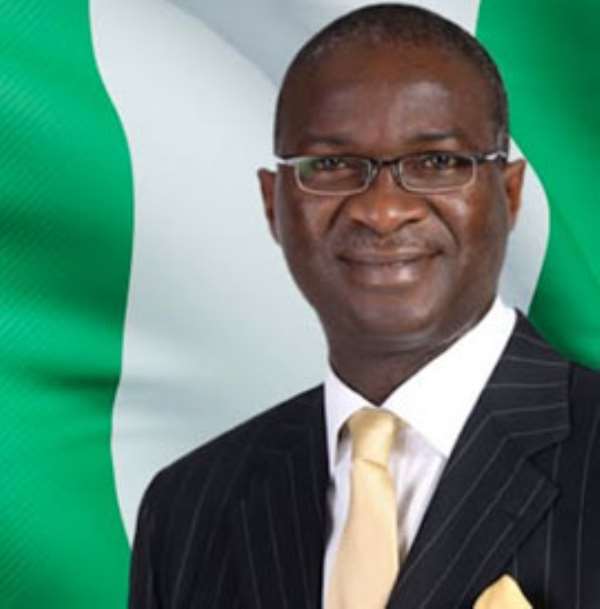 Governor of Lagos State Mr. Babatunde Fashola
It is sad that Olorunda Local Council Development Area (LCDA) of Badagry local Government Area of Lagos State under the chairmanship of Hon. Abudu Amida who is presently serving his second tenure and aiming to go for House of Representatives in 2015 has abysmally failed to provide motor-able roads for Oko- Afo communities' dwellers over the years.
The fear of living in Olorunda LCDA is beginning of indigenes and non- indigenes undergoing stress of bad roads and poverty. There is no government presence in Olorunda LCDA in spite of the Fashola gigantic mega city project in Lagos State.
Olorunda is the worst local government in Lagos State where the present chairman and the representing member of the Lagos State House of Assembly, Hon, Avoseh have failed to provide social amenities for the people in recent past years of their leaderships. Oko- Afo community is one of the notable communities in the Olorunda LCDA of Badagry local government area of Lagos State located along Badagry Expressway.
It is densely populated with Egun-speaking community and most of the communities are Egun dominating. It is a big town with a rapidly growing population. In fact, there are no dividends of democracy in Oko-Afo community than regretting of electing Hon. Abudu Amida and others into power.
The Oko- Afo road is one of the roads used to trade along the Badagry Expressway until the main road was constructed by the federal government to link some African countries. It is a fast- growing town that comprises communities like Agumo, Ijotun, Oke-ogbe, Ipara, Iyesi, Ajako, Isawo, Komajayi, Sunfe, Petekun, Zunve/Whezunmu, Samoseje, Zavi, Mabong, Iyano- Paye, Pure water, Comforter , Ilogbo-Eremi and others.
On a sad note, these communities do not have good roads that linked these various communities within Oko- Afo town. The cost of transportation is at geometrical progression where motorcyclist popularly known as ' Okada' charges from Oko- Afo bus stop to these various communities from #300 to #350 between morning and night hours while Tricycles in that area cannot go long distance due to the bad roads of Oko- Afo community.
If it rains, the roads are inaccessible and transportation charges increase to 90 percent while the dwellers are the receiving ends. It has come to a stage in Oko- Afo community that people wait for incoming buses that live within the community between the hours of 10pm to 12pm to get cheap transportation to their different destinations. Even car owners are living in the mercy of God. How long will this suffering continue?
The problem is that there are no drainage system, gutters and others. Some of the houses built over there are ancient and have no architectural plans. This has made the prices of food items and others to increase beyond the reach of the poor. Most of the dwellers are middle class people who struggle to make their ends meet on daily basis.
One of the challenges in Oko- Afo town is that some acclaimed Lagosians in these communities have made themselves lords over these decaying roads of collecting toll taxes from Okada riders, trucks, tippers and others that ply these roads and not ready to grade the roads for the suffering dwellers. Recently the Agunmo Association of Traders took the pains of grading the road for themselves while the government and community leaders pretend not to have any knowledge of it.
Some community dwellers claimed to be owners of these roads by collecting compulsory taxes from dwellers. Some of the toll charges ranging from #500 to #1000 and yet the roads are not graded. Agunmo market remains the biggest market in Oko- Afo followed by Iyesi and others. Market days are usually five days. Most of the dwellers are school owners, pastors, retail traders and nothing more.
The problem is that some individuals have indicated interest to construct these sorry state roads time without number while some acclaimed community leaders have prevented these God- sent people not to do it than demanding millions of naira from them. Hon.Abudu Amida has failed to provide pipe-borne water, health care service delivery, model schools to these communities. The worst is that most of the government- owned schools do not have toilets where pupils and students defecate than throwing the faeces within the school premises which is dangerous to health.
Hon Abudu Amida should visit other local governments in the State and see the magnificent projects embarked upon since 2007 till date by his fellow chairmen. Even though Oko- Afo is still developing, Hon Abudu should make his local government the best in Lagos State. His 2015 House of Representatives ambition will be faulted if not fixed the bad roads in Oko- Afo in time.
Fashola sir, I want you to pay unscheduled visit to Olorunda LCDA not Badagry Local Government Area to see the state of things for yourself. For instance, a journey from Oko-Afo bus stop to various communities does not take 25 minutes but the state of the roads had made it take 1hour to 2hours. The palpable fear of living in Olorunda LCDA has made many people to see Hon. Abudu Amida as a failed leader who never carried the APC motto well since being elected.
The only renovated health centre at Isamole area and some government primary schools are nothing to write home about in the LCDA. The LCDA chairman has remains adamant on the situation than indicating interest to run for House of Representatives 2015 whereas Oko-Afo community is in eyesore. The era when people vote for money is over in Nigeria, but your achievements decide the votes and no longer ACN but APC affairs.
The high rate of broken down vehicles are alarming on daily basis because of the state of the roads in Oko- Afo community. Community businesses are not accessible easily as a result of the dilapidated roads which make dwellers to wake up as early to get buses plying those areas at 4am to 5am daily to mile 2 for #200 only. Some of the roads are becoming a robbery den where community sellers are robbed of their hard-earned money.
Though some of the communities have their own untrained security personnel to guard the areas but cannot combat these deadly robbers of this 21st century. Oko- Afo is located at the Lagos East Senatorial zone of Lagos State while many tagged Badagry as outside Lagos. The history of Lagos cannot be completed without Badagry. Oko- Afo community is seriously battling with flood due to lack of drainage system and so- called traditional rulers are happy with the situation. Some communities within that Badagry do not have access to electricity or roads. The infant mortality rate is very high in Oko- Afo community.
All the government owned agricultural farms have faced- out due to lack of maintenance while reptiles have taken over the farms which ought to serve as employment opportunities for the youths in these communities.
Finally, it is time for Babatunde Fashola to draw the attention of Hon. Abudu Amida to construct Oko- Afo road now. Any moment from now Hon. Abudu will be out of leadership to pursue his House of Representatives ambition.
GODDAY ODIDI.
PUBLIC AFFAIRS ANALYST
08058124798, LAGOS