Kasoa-Mallam road to be diverted today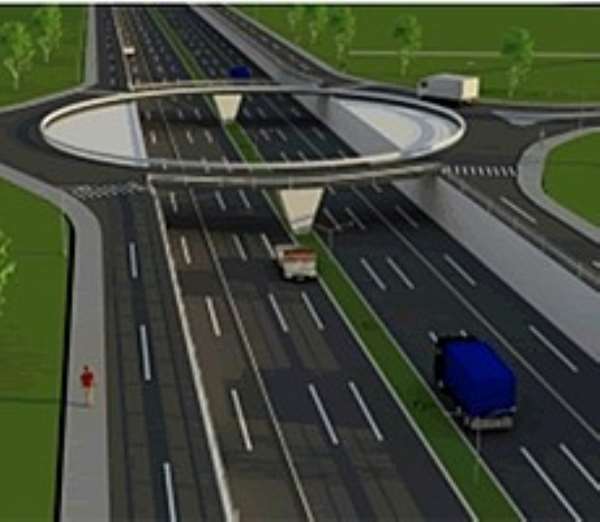 The Dunkonah Junction portion of the Kasoa-Mallam road on the Accra-Cape Coast Highway will be diverted to traffic from today, Wednesday, April 23 until further notice, a statement from the Ghana Highway Authority has announced.
The affected section, near the Weija Shoprite Supermarket, will be closed from 4:00a.m.
The statement advised motorists approaching Accra from Kasoa to drive with caution and follow diversion signs as they approach the construction zone.
It said the diversion consisted of a 650-metre long asphalt-surfaced, two-lane road which breaks off from the Kasoa-Accra road at Dunkonah Junction and Mandela, towards the Weija Shoprite Supermarket,
The diversion is to enable  construction works to start on a grade separated interchange which will link the Accra-Cape Coast highway to the West Hills Mall under construction and expected to open within the last quarter of the year.
According to the statement, the diversion does not affect traffic moving in the opposite direction from Accra or Mallam towards Kasoa, as that section of the road will remain open to motorists.
The interchange, described by engineers as an underpass, has become necessary after a traffic impact assessment jointly conducted by Ghana Highway Authority and Delico Property Investments, the developer of the West Hills Mall.
According to officials of Delico, the design and standard specifications were approved by the Highway Authority and Delico is bearing the full cost of construction of the interchange.
The interchange is expected facilitate the free, safe and uninterrupted flow of motor traffic on that stretch of the Accra-Cape Coast Highway while providing safe access to the mall for shoppers, pedestrians, mall tenants and service trucks.
Construction works on the interchange are expected to be  completed in October, this year.
Motorists are, therefore, advised to follow diversion signs that will be placed along the road within the construction zone to ensure a safe and speedy execution of works on  the interchange, the statement from the Ghana Highway Authority concluded.