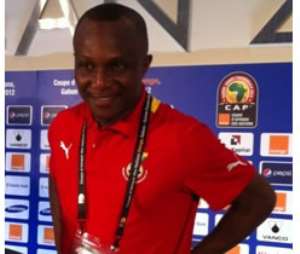 Ghana Coach James Kwasi Appiah
One of the interesting things which is conspicuously missing in our media discourse today is whether the African Countries are beginning to appreciate and recognize indigenous and home-made coaches to take up national and international assignments.
The ongoing Africa Cup of Nations (AFCON 2013) in South Africa has witnessed a tremendous increase in the local coaches and this is indeed a feather in the cup of football history.
The likes of Ghana's James Kwasi Appiah of Black Stars, Stephen Keshi of the Super Eagles of Nigeria and Lucia Antunes of Cape Verde have added another genre to the whole tournament.
From all indications, it appears we are beginning to tap into our human resource and human capital to harness growth and development. I have always remained resolute against foreign coaches handling technical affairs of our various national teams.
How do we attain middle in-come status as a country if we fail to grow and develop our human capacity?
The irony is when foreign coaches come, perform abysmally and take home the juicy gratuity at the expense of the ordinary Ghanaian whose voice is sharply ignored in this matter.
Besides, the foreign coaches only travel to scout and porch for international based players who are regularly featured in their respective leagues abandoning our local feat.
We cannot afford to pay such colossal monies to expatriate coaches who deliver just little at the end and leave us in dilemma.
We must bear in mind that foreign coaches do not come to do us good but instead we provide them with the opportunity to upgrade their curriculum vitaes (CVs) for higher laurels.
Mr. Dan Lartey of blessed memory enjoyed the sobriety, 'domestication' because of the insatiable attitude of Ghanaians not promoting our natural and human resource.
It is high time we dismissed the perception that our International or foreign based players do not have respect for our local based coaches. This is absolutely infantile and babyish.
There is no way a foreign based player would want to undermine the efforts of a local based coach. After all, the coach does not work in isolation in terms of the management and the administration of the team.
Ghana has tested and tried several foreign coaches ranging from the likes of Otto Pfister, Milovan Rajevac, Goran Stevanovic, Ratomir Dujkovic, aka Doya and Claude Le Roy etc. ln all these, the ultimate result has eluded us for over thirty years.
We waste money of the tax-payers to hire these foreign coaches, accord them pouch hotels, fleet of vehicles, security and succulent salaries. These foreign coaches sometimes throw in the towel without seeing their shadow yet the government of the day spins after their departure.
Irrespective of the fierce agitation and protestation characterized by such appointments, the government of the day goes ahead to impose such a decision on us only to come and justify the mishap.
I always doff my cup high to CK Akonnor, Odartey Lamptey, Maxwell Konadu, Opeele Aboagye and the likes investing in our soccer fraternity with their coaching pedagogue. It is a great omen of carving a niche for ourselves as a soccer nation on the continent.
Lest l forget, l must congratulate all local coaches of the AFCON, 2013 for their technicality, sportsmanship and dexterousness for competing among themselves and their foreign counterpart.
As a Ghanaian, all l wish for is to see a day when a local coach would unseat all other countries to bring the enviable trophy to Ghana.
***The Author Of This Article Is A Professional Journalist As Well As The Current General Manager For GNJ Communications & Trading Company Limited, Sole Distributors Of Vodafone Products & Services For Volta & Eastern Regions***
Contact: 020 31 00 670, E-mail: [email protected]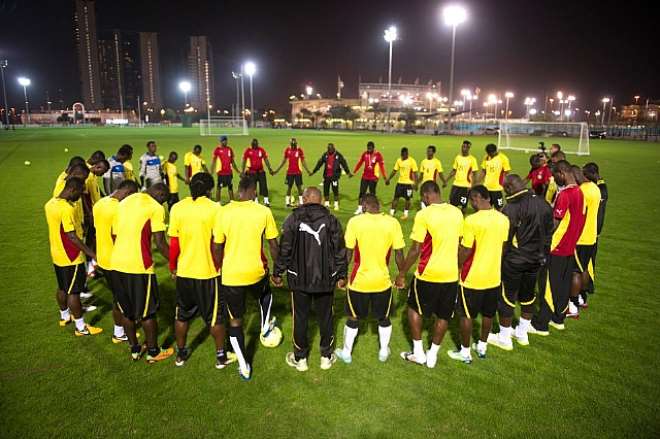 The Black Stars And Their Technical Team