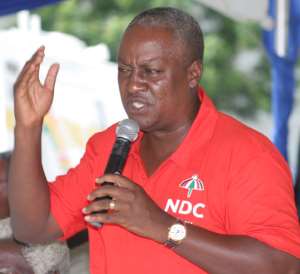 John Dramani Mahama
(RESCUE GHANA's Perspective)
RESCUE GHANA is an NGO established in 2008, based in Koforidua. Currently, its facebook platform engages and elicits views on topical issues in bringing about change: To form, transform and reform society. Sorry, l do not need to bore you with this rudiment.
Mr. President, Are you aware of the number of times our power supply have been interrupted since your promise of a considerable end to it in 2012? Are you aware of the acute water shortage in and across the country?
The industries are gradually creeping down, workers are being retrenched, increase in operational costs, thievery, embarrassment and low productivity.
Are you aware of the school boy at Adenta who was knocked down by a car in search of water for domestic use? I cannot tell the countless number of people who died in silence in the same predicament.
Mr. President, we are very morose as a Ghanaian and in great distress because everything seems to be in a higgledy-piggledy. The load shedding and water shortage in this country has been with us in ages and it seems no clear permanent solutions are found to this. Our approach in solving this has been weird. We behave like fire-brigade and only to tackle the issue when it comes then later go to sleep.
As far as we are concerned, the population increase is directly proportional to electricity/power and water production. Industrialization could only be growing if we consciously increase our social amenities to meet the time.
The rural electrification projects embarked by President Rawlings gave birth to Aboadze Thermal Plant in Takoradi to augment electricity supply. Such foresight was by President Rawlings was quite a commendable one. President Kufuor also follow suit with the on-going construction of Bui Dam.
The government of Ghana as the biggest expenditure spends sometimes on frolicsome activities coupled with the several judgment debt payments staring our faces.
We are only being disingenuous to ourselves. Again, the money the government spent on the official opening of the flag staff house for the presidency to carry out its office duties were unnecessary. This only siphons our purse.
Sekou Nkrumah, son of Dr. Kwame Nkrumah, the 1st President of this country writes on his facebook wall: what statue of Nkrumah again?
Government should rather focus on putting our basic infrastructure right! We need water and electricity. This really gladdens our hearts for his sense of selflessness and sensibility to the plight of all Ghanaian
We shall definitely be amazed if we are told of the cost incurred on that programme. To some people the money spent is just a drop in the ocean but we should not forget that 'Little Drops Of Water Makes A Mighty Ocean. We need to be prudent in the way we spend and clearly outline our priorities as a country.
President Mills of blessed memory mooted the idea of ministers of state boarding 'trotro', commercial bus to their work place as a sign of exemplary leadership and cutting down expenses and raiding profligacy. President Kufuor also continued this approach by instituting a policy of conserving electricity usage in all ministries.
All these plausible ideas have turned out to be a nine day wonder and unsustainable.
Not quite long ago, they increased the monument of our Members of Parliament, we now find ourselves discussing providing accommodation for them as well. I am the least to speak against providing accommodation for our MPs.
I, however, ask myself if it is a priority now. This is to say as if the salary increment did not provide room for accommodation. On the contrary, they all need to sacrifice and be sensitive to the way government spends.
To me, there is a total misplaced of priorities, a total lack of sense of urgency and a total break-down of economic discipline. Water and Electricity which are the life-blood of every society is recklessly being toyed with.
We only espouse good ideas but at the end of the day, nothing concrete happens. l want to know whether the better Ghana agenda, Mr. President , is on course.
Of course we are aware that you are in your political honeymoon of your hundred days. The functions of the government cannot be grinded to a halt. The convention of the honeymoon is to select your team to run government businesses.
We are very confident in you and trust you to turn the economy round considering your plans and visions for this country.
Mr. President, the emerging problems are quite reprehensible that we cannot tend to shut our beaks but only draw your esteemed attention to it and plea for immediate-ending solutions. Frankly, this is affecting your government's popularity and the social democratic credentials of the NDC Party.
Our vote was for the problem to be fixed instead of the empty garrulousness. It stands to reason that excuses are not deliverable and excuses do (not) translate into results.
Do not be surprised to hear your contenders accentuating the feelings of the electorates by promising them an end to the perennial water and power – shedding of electricity. You remember they gave you a run for your money when they coined the ever popular Free SHS Political Mantra.
To sign off, we would want to know whether the flag staff house and the castle including the residents of your cohorts are also going through this stress of sharing power supply exercise and water shortage.
Please, do not be offended of this microscopic view point made on your privileged but enviable position; we contributed our pinkies in making it reality. The ritual canker of the load shedding must end in your tenure of office so that history will forever be told.
Thank you for affording me your time and the opportunity to pour out our frustrations and apprehensions. I would also thank you the reader:
Students, Doctor, Nurse, Journalist, Business Man, MP, DCE, Banker, Engineer, Minister, Politicians, Accountant, the Entrepreneur whose critical national assignments, this situation is affecting.
***The Author Of This Article Is A Professional Journalist As Well As The Current General Manager For GNJ Communications & Trading Company Limited, Sole Distributors Of Vodafone Products & Services For Volta & Eastern Regions***
Contact: 020 31 00 670, E-mail: [email protected]