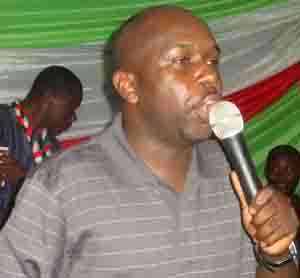 National Youth Organizer of the ruling National Democratic Congress (NDC) Ludwig Akpene Hlodze, has called on the youth of the party to take inspiration from the victory of President John Dramani Mahama in the just ended Presidential and Parliamentary elections as the product of their hard work and unflinching support for the party.
In a statement issued from the party office in Kokomlemle, Ludwig appealed to supporters of the party to focus on the task ahead and rally behind the Mahama- Amissah Arthur administration for the common good of the people of Ghana.
"We have come a long way as a nation in building our democracy and our institutions for the peace of this nation and must not jeopardize 20 years of this peaceful journey towards nation building. As believers in democratic governance, the youth of the NDC must show tolerance and respect for the institutions that have made this country a rising star in the sub region and on the continent," Ludwig noted.
Advertisement
The statement called on the security agencies to continue to safeguard the democratic atmosphere across the country and congratulated them for playing an effective role in maintaining the peace in Ghana.
The NDC Youth Organiser congratulated the young men and women in the party who contested on the ticket of the party as parliamentary candidates and added that those who won have a duty to bring a lot of dynamism to their constituencies and the party and must serve as models for development and inspiration for the youth of Ghana.
Signed
Ludwig Akpene Hlodze