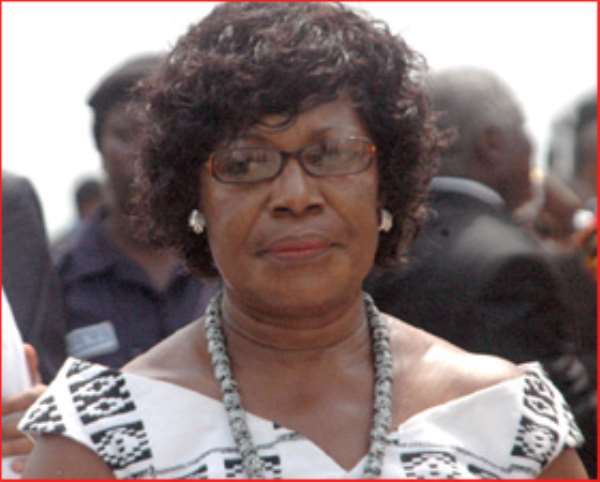 One day during classes in my first year at the prestigious saint john's school at Baka-Ekyir,Sekondi in the Western Region, our French teacher who probably wanted to get to know a little more about each one of us in the class, asked us to,individually,introduce ourselves to him and tell him where each of us came from. I was in form one A class and as we speak, over 90% of those in that particular class have moved on in life by way of pursuing various fields of academic studies and are scattered all across the globe.
The self-introduction got underway and we took turns to tell the master our names and home-towns. It got to one of my mates and he mentioned his name and said he was from 'kyekyewere' in the Nzema area. Now, because we hadn't heard of that name before and it sounded so strange in our ears, we all burst into laughter and the master really had a difficult time restoring order in the class.
When the dust finally settled and we were all calm, the master took his time and taught us a great lesson in respecting individuals irrespective of where they came from. The master ended up making us feel so bad about what we had done and we had no option but to apologize to our class-mate who was then so sad and confused. And from then on, we never mocked at our friend again.
The boarding-house concept
The boarding house concept is a brilliant way of allowing Ghanaians, particularly the youth who are future leaders of our great nation, to integrate and learn about one-another's culture and other characteristics unique to people from particular areas of our dear nation, though we are all Ghanaians. All my child-hood years were in the twin-city of Sekondi-Takoradi during the good days of Ghana Fishing Corporation. My senior brother used to work with Ghana Cold Stores which was very close to the Sekondi Naval Base where we used to walk, all the way from Nana Nketsia primary school (Essikado), just to go and watch Naval boats and also collect left-over fishes from the premises of Ghana cold stores.
We were occasionally making trips to Cape Coast and other parts of the central region where we actually come from. And with this very limited horizon of our nation's cultural diversity, I was really excited when I passed the common entrance examination and gained admission to pursue secondary education at the prestigious Saint John's school. Entering the campus itself to undergo a 5year secondary education was such a delight because I had always passed by the gates of the school and the hilly, serene and the greenery of its environment alone made the place my dream school.
Unity in our diversity
I was therefore very much delighted to finally be a student of that school. During our time, we had American missionaries who were more or less in-charge and things simply worked according to the clock. The meals were simply super and the level of discipline instilled in us was something I hadn't experienced in my life. In all this, I was able to take it in my strides and quickly adjusted to my new environment and way of doing things. However, being on a campus with people from all over the country was such a great experience which I hadn't had before since I had spent all my child-hood years in the southern part of our dear nation.
I was in Saint Ignatius house (house 5) where all the extreme radicals on campus during my days could be found. I spent 5years on that campus but didn't know the actual names of some of these students because they chose to use only pseudo names. Simply put, being in that environment of 'confinement' with people from diverse ethnic backgrounds actually opened my eyes to the beauty of our dear nation and what it has to offer. The best of my friends were actually from the northern part of our country since I was so fascinated by the striking cultural difference between myself and them.
From there, I entered the school of medical radiography in Korle-Bu (Accra), where the situation was the same, and again, ended up having the best of my mates coming from Bawku.
Now, I haven't held any government appointment before and neither have I served in a public capacity but I'm very much conscious of the fact that our nation is made up of different people. This is what makes us unique and our ability to co-exist and tolerate each other's views, so engrained. However, human beings have different levels of tolerance which determines the amount of provocation one can endure. This threshold of tolerance is what determines how an individual reacts to specific situation. So, as a leader of the people, and in this case a whole region comprising all ethnic groups of Ghana, for example, certain pronouncements must never be made.
The GIMPA orientation joke
It has become a norm for every newly elected leader of our nation to take his appointees to GIMPA for some training in management and public administration. But just as we always do here in Ghana, these people draw up gargantuan budgets for such programmes,make sure over 90% of the sum is kept in their pockets and simply drive in unending columns of fuel-guzzling 4WD convoys to the lush green environs of GIMPA,drink tea/kyebom,eat heavy buffets and simply go back home and sleep. And the recent disturbances across the length and breadth of our dear nation has actually exposed the fact that over 99% appointees of the current Atta-Mills-led administration are people whose head are completely empty and are still refusing to learn.
A case in point was the pronouncement made by the central regional minister, Ama Benyiwa Doe, following disturbances at Ekumfi-Nakwa.A regional minister, by her position, is the head of the regional security council so if there is any incident that has the potential to destabilize the peace of the region, and by extension the nation, it is incumbent on such an individual to make a comment on the issue only after being briefed by security professionals serving under her.
Even before the chairman of the regional security council comes out with a pronouncement on such a sensitive and highly explosive issue, at the time tempers were actually at boiling point, it would be appropriate to even bring the national security adviser up-to-speed before any pronouncement is made.
However, because the president is unprecedentedly weak and incompetent, all his appointees have taken the law into their own hands and behaving as chickens suffering from 'Newcastle disease'; their mouths constantly dripping with mucus of abject careless talk while their back-sides drip with flatulent misbehavior. From all indications, it has now become clear that Ama Benyiwa Doe's reckless pronouncement to the effect that the disturbances that took place at Ekumfi-Nakwa in the central region were as a result of a pronouncement Kennedy Agyepong is alleged to have made, was palpably false since the perpetrator of that heinous crime turned out to be an indigene and not a settler.
Nauseatingly shrill lying voice
And like as I have always said, if we had a leader with real testicular fortitude, a disgraceful appointee as Ama Benyiwa Doe would have been swiftly removed from her position; but expect nothing to happen since the person who appointed her, is himself, nowhere to be found. This is an administration that a presidential spokesperson is able to fire directors of companies without recourse to either the president or the board of directors of the company in question. And as we speak, this damn reckless individual is still at post and drawing fat salaries at the expense of the Ghanaian taxpayer.
Ama Benyiwa Doe lied constantly with her nauseatingly shrilled voice in the studios of Peace FM, and like the entire sorority of Atta-Mills-led government, they are still under the illusion that governance is all about irrational talk!!!
Justice Abeeku Newton-Offei
Email: [email protected]