When money rules the Church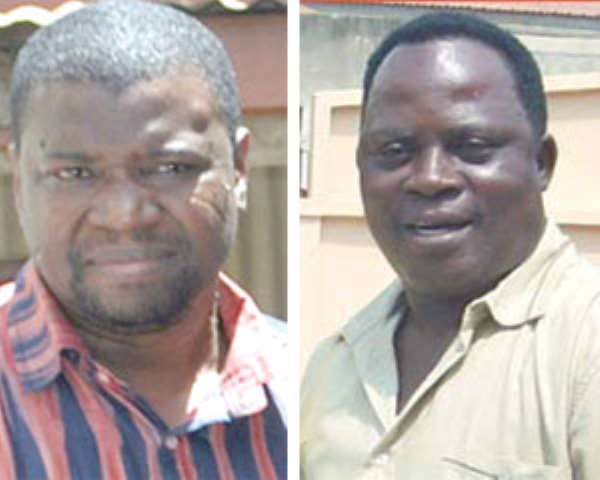 Disgraced Bishop Vaglas Kanco (left), Convicted Nana Kofi Yirenkyi (right)
"Money has so permeated our churches that the reward of priesthood is more in heaven, it is here on earth. Last December, a Methodist priest shocked the congregation in a rural setting by demanding at a church service that each member of the congregation make a donation of GH¢ to him."
 
I have a bone to pick with Mr. D.E.K. Daketsey, who found Bishop Vaglas Kanco, Presiding Bishop of the Vineyard International Ministry guilty of defrauding a member of a congregation of a church in Britain, which had invited the so-called Ghanaian Man of God as a visiting preacher. In case you are unaware, a cool 120,000 pounds sterling was involved.
I am annoyed that such a heinous crime attracted only 18 months prison term. I bet if the criminal had been any other person than a so-called Man of God, the accused person would have been sent to prison for at least 10 years. The fact that Bishop Kanco was ordered to pay back the money does not ameliorate the quantum of the offence.
This was one issue that has taken nearly a decade to resolve. According to the prosecution, Bishop Kanco visited London at the invitation of the Alive Chapel International to preach the gospel to the congregation of the Church.
In the course of this ministry, Bishop Kanco was approached by Ms. Clove Sutherland, who had issued a cheque in the name of a boy friend and a business partner. At that point in time, Ms. Sutherland was going through an emotional problem, occasioned by her relationship with the boyfriend being on the rocks.
The woman had requested for a special prayer to be offered on the cheque, because she was afraid the boyfriend, who was dealing in occultism, could bring harm unto her. In the course of their dealings, Bishop Kango sowed further seeds of fear in the woman, by suggesting to her that she could die if she did not allow our so-called man of God to pray over the cheque.
Ms. Sutherland was obviously relieved that a powerful man of God had intervened to prevent her from dying. Her only task was to re-write the cheque in the name of our man of God, who happily banked it in his personal account in Ghana.
Forget the fact that Ms. Sutherland is a lawyer. Our learned friend still needed the protection of a mighty force, and that could only be done through the intervention of Bishop Kanco. We are not told when the drama begun, but we learn that the Bishop was to return to London in 2003. It would appear, therefore, that the cheque was given to the Bishop probably in 2002, the year before.
After a very long time of asking for the return of the cheque or the cash equivalent of it, a report was made to the Ghana Police. On his arrest, Bishop Kanco did not dispute the fact that the cheque was handed over to him. His assertion was that the cheque was a gift. In other words, Ms. Sutherland met Bishop Kanco in London and gave him the cheque for his personal use.
I would like to believe that this crime is heinous enough to have attracted at least a 10-years sentence. In the name of God, men of evil have invaded the church and are using the structures of the House of the Lord for themselves.
It is not long ago, when Nana Kofi Yerenkyi, Founder and General Overseer of the Jesus Blood Prophetic Ministry was jailed for incest. The story was not only harrowing. It defied conventional wisdom as to how a man of God would be having canal knowledge of a girl so horribly young? And to add insult to injury, she was his daughter.
According to the Prosecution, Nana Yerenkyi, who is known as 'Jesus One-Touch', for his ability to perform miracles on the spot, was having carnal knowledge of his one 10 year- old girl. The so-called Man of God defiled his daughter just before church service on Sunday mornings.
He was then said to have collected the fluid he had discharged into a handkerchief. He took the handkerchief to church and performed all manner of miracles with it, according to the prosecution.
In the name of God, all manner of people are assailing our ears, at street corners and in public places. The word of God, the Holy Book admonishes mankind, is not for sale. However, men and women are living fat on the word of God, which has been given to mankind for free.
It is not too long ago, when two spiritual leaders virtually engaged in an open fight. It was alleged that another Man of God, Pastor Frank Annor, Leader of the International God's Way Church, had been contracted by Bishop Daniel Obinnim to bury some items believed to be juju in the church of his rival, Reverend Ebenezer Opambour AdarkwaYiadom.
The items allegedly included human bones, a black cobra and red candles. There are no prizes for guessing right what the juju was intended for. The two popular pastors in Kumasi have been involved in a well orchestrated media war, each claiming to be more powerful than the other.
The two so-called men of God have made the working of miracles the centre stage of their worship, and their churches are usually jam-packed by thousands of Ghanaians, mainly women, seeking after all manner of salvation.
It is sad, but in modern Ghana, miracles are the driving wheel for church services. They are the main attraction for participating in church activities in Ghana. In this country, spiritualism is being taken to a very ridiculous proportion. But take it from me, at the centre of all these mushroom churches preaching salvation, is money.
In April 2004, the Ghanaian leader of the Winners Chapel, Bishop George Adom Agyeman broke away from the Living Faith Church, otherwise known as the Winners Church, with some of his Ghanaian congregation to establish the Winners Church of Ghana.
The protracted dispute was settled under the chairmanship of Bishop Agyin Asare of the Word Miracle Church. Hundreds of thousands of dollars was cited in the settlement.
It emerged recently that Bishop Daniel Oyedepo has just bought his fourth private jet. And they say Jesus rode on a borrowed donkey in his triumphant entry into Jerusalem.
Unfortunately, the fortune of the church in Ghana these days is determined by the power of money, and not the admonition of our Lord Jesus Christ.
In the name of the Lord, all manner of things are being done. Stories are doing the rounds of pastors taking people's wives to the beach, where they bath them to cleanse them of evil.
Quite recently, Kwaku Bonsam, a popular witch doctor, came public and alleged that a number of leading pastors in the country are regular visitors to his shrine, who come to ask for super natural powers to enable them perform miracles and set up their own churches.
When some of us were growing up, there were magicians visiting towns and villages, and performing wonders. Some could kill human beings and resurrect them. These magicians are no more. Instead, most of them have established their own churches, where they are using the power of magic to perform miracles.
Money has so permeated our churches that the reward of priesthood is no more in heaven, it is here on earth.  Last December, a Methodist priest shocked the congregation in a rural setting by demanding at a church service that each member of the congregation make a donation of GH¢5 to him.
His explanation was that people were paying hundreds of Ghana cedis to go and watch artists like Kojo Antwi and Daddy Lumba perform during the Christmas festivities. As a Man of God, he claimed, his performance was more fulfilling to the soul than entertainment artists.
In a country where religion is so revered, some leaders of these so-called charismatic churches, have especially, found it a fulfilling duty to defraud their congregation, most of who believe that money given to the church or the pastor, is a means of preparing oneself to be received in heaven.
If one runs a check on these one-man churches, one might discover that all properties of the church, including schools, are comfortably lodged in the name of the founder. Money rules the new churches. That is one reason why bishops and pastors are going out of their way to do the impossible.