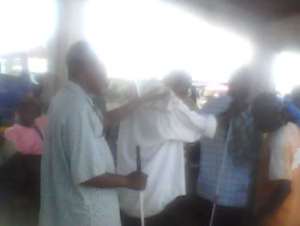 Discrimination of the disabled by society is one of the major problems undermining the progress of democratic practice in the country. It is always the dream of people with disabilities that so long as the disability bill is passed, their position in society will be influenced positively.
However, things did not work in their favour, as it is about four years since it was passed, but still people with disabilities suffer prejudice. People with disabilities are discriminated at the work places, and even in the use of public property. According to the United National Enable, about 80 to 90% of persons with disabilities of working age in developing countries, including Ghana, are unemployed. Globally, according to statistics, about 10% of the population is made up of people with disabilities.
Ghana's disability bill
The Ghana Parliament passed the Persons with Disability Bill on June 23, 2006. 'The disability Act, according to the Ghana Federation of Disabled (GFD), has 12 main objectives, some of these objectives is to create an enabling environment for the full participation of PWDs in national development, to ensure access of PWDs to education and training at all levels, to facilitate the employment of PWDs in all sectors of the economy, to promote disability friendly roads, transport, and housing facilities, to ensure access of PWDs to effective health care and adequate medical rehabilitation services, to ensure that women with disabilities enjoy the same rights and privileges as their male counterparts, to ensure that law enforcement personnel in cases of arrest, detention, trial and confinement of PWDs take into account the nature of their disabilities, and as well to ensure access of PWDs to the same opportunities in recreational activities and sports as other citizens.'
PWDs have been discriminated against for too long a time, and it is a good thing that the United Nations (UN), governments and organisational bodies have come to empathise with PWDs to free them from their plight. The Disability Discrimination Act (DDA) 1995 aims to end the discrimination that many disabled people face. This Act has been significantly extended, including the Disability Discrimination Act 2005.
The bill, after many years of agitations for its passage, has finally been passed, but its implementation has always been a big issue, as the government seems to be too busy attending to other issues, rather than ensuring its implementation, and society as well refusing to help in the implementation.
Disability in terms of blindness
People with disability, due to the level of discrimination given to them by society, result in them not fitting into the job market, and are often considered not competent enough to fill a position,  even when they have some level of education. However, when they do not have any kind of educational background, they are totally ignored.
Sometimes, people with disabilities like limping or affected hands are sometimes considered when there job opportunities but how about the blind ones?  Disability associated with blindness is one of the frustrating kinds of disabilities among the disabled, as one is unable to see and find his or her way around. Unlike other kinds of disabilities, which can enable someone to be a shop keeper, the blind ones do not get that opportunity, as they even find it difficult taking care of themselves. Most of them resort into begging on the streets when they have no vocation like craft making, or are not helped by family members.
Story of some blind beggars
Okyeame Kojo, 43, Osei Kwame, 40, and Emmanuel Mensah, 48, are blind men who hail from Bodwiase. They always travel from their town to various suburbs in Accra to beg for alms. They often walk around in indian file, with their escorts, begging on the street. They sometimes sing while they roam about to attract the attention of people around. They normally beg in crowded places like lorry stations, or in the markets, with the notion that, at least, among the crowd there might be a Good Samaritan to make their day.
According to them, all hope depends on how much they make for the day, even though they are scorned both by young and the old, they are not bothered anymore, since the act of begging is their only source of income, and no matter the humiliation they encounter, they rest assured that someone among the crowd will have pity on them.
Even though life has not really been fair on their side from the onset, they learnt to get used to the whole situation, as it is their destiny.
Okyeame Kojo
Okyeame Kojo comes from Larteh. According to him, he has been blind from birth, and since his parents died when he was very young, family members have not really cared about him, and refuse to help him whenever he asks them for help financially. He said he is married with four kids, but unfortunately, his wife, as well, turns out to be blind.
Begging on the street is what has taken them through all this while, and they have even been able to take their children through school, with the oldest one at the Junior High School level. He said none his children are blind, and that the oldest child, who is a girl, sells sachet water during school vacations to help the family.
He mentioned that he tried learning a craft, but stopped midway, since he did not get the financial support needed to complete. Apart from that, he also joined an association for the disabled, but all to no avail. He said the association promised to give them some money to start their own businesses, but they had waited for a couple of years to no avail.
Osei Kwame
Osei Kwame, who has also been blind from birth, is married with four kids, with the oldest being 12 years old. He and his wife have managed to take the children through school with the money they get from begging. With him, he has a vocation in craft making, but the problem is people don't purchase his crafts, so he always runs at a loss. Since family members refused to help him financially, he resorted to begging on the streets with his fellow blind men. According to him, he was a member for the Ghana Blind Union, but did not see any benefit in the association, so he stopped.
Emmanuel Mensah
With Emmanuel Mensah he was not born blind, it came along in the course of his life. He is not married, and has no vocation, family members do not help him either, so he relies on begging on the streets for survival. According to him, the passage of the disability bill by the government was not useful, after all, since its details are not being implemented. He said the passage of the disability bill was something they were really yearning for, hoping it would benefit them, but nothing of that sought seems to be happening.
Paul Addo (Good Samaritan)
Paul Addo, who sews bicycle seats and plays the guitar, is their escort. He escorts them around the various vicinities. According to him, he does that when he is less busy with work, and moreover, also when the girl who usually escorts them has an appointment with other blind folks. He said since he can't help them financially, due to his business, escorting them is the only way he thinks he can offer his help.
Conclusion
People with disabilities had so much hope in the government when it enacted the disability bill into law. From the look of things, their hopes have been crushed, as the relevance of the act is not being visible enough.
People with disabilities are also important to the progress of the state, so should be given the same rights bestowed onto any other person, considering Ghana being a democratic state.  The enactment of the bill into law was a great stepping stone by the government towards achieving a better place for the disabled in the country, and it should, therefore, make sure it finishes this journey with the step it has taken.