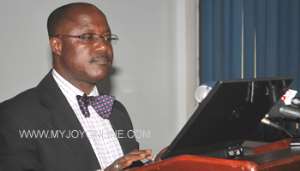 Prof. Ken Attafua
President John Evans Atta Mills has been cautioned against setting up a Presidential Commission to probe the Mabey and Johnson bribery scandal.
A section of the public has called on President Atta Mills to demonstrate his commitment to fighting corruption by setting up an independent commission to investigate the allegations made by UK-based construction firm, M&J, that it paid bribes to some former public officials to influence the award of contracts to the company.
The calls were predicated on the human rights' court's ruling barring the Commission on Human Rights and Administrative Justice from continuing with its public investigations into the matter as a result of alleged comments by the Commissioner, Emile Short, deemed to be prejudicial.
But Criminologist, Prof. Ken Agyeman Attafuah, has told Joy News any such move as setting up a commission to probe the matter will be wrong, dangerous and will amount to undermining the independence of CHRAJ.
He said if the president sets up a commission, "it will not be seen as an honest effort to fight corruption, it will be seen as just taking the matter from the forum which is considered credible and giving it to a forum that is unknown."
According to Prof. Attafuah, since members of the commission will be decided on solely by the president, "it can be anybody that the president chooses, who may be beholding to the presidency."
Turning to CHRAJ, the former Chief Investigator for the Commission said it has a duty to protect its institutional independence. This, it can do by appealing the court's decision.
He said the Commission can go to court and say "look, we have not done anything [wrong]. Even if our representative, the head of our institution, has made a comment that is considered by the court to be prejudicial, it does not oust our jurisdiction [to investigate the issue]."
CHRAJ has indicated it intends to appeal agains the Human Rights Court's ruling.
Story by Malik Abass Daabu/Myjoyonline.com/Ghana