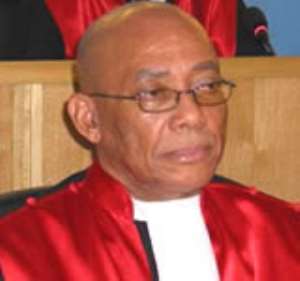 CHRAJ boss, Emile Short

There could be no end in sight yet for the thrills and controversy generated in Ghana by the Mabey and Johnson (M&J) bribery scandal as the Commission on Human Rights and Administrative Justice (CHRAJ) heads for the Court of Appeal for another round of legal battle.
A ruling by the Human Rights High Court has prohibited CHRAJ from conducting further investigation into the bribery case in which the UK-based construction firm had named some Ghanaian officials as alleged recipients of some of its bribe money in Africa.
The ruling appears to have generated interest among human rights and governance organisations, as well as in legal circles, but the Commissioner of CHRAJ, Mr Justice Francis Emile Short, and CHRAJ as an institution have steered clear of direct public comments.
A press statement signed by the Head of the Public Relations Unit of CHRAJ, Mrs Comfort Edu, and issued in Accra Tuesday said, "While respecting the court in this matter, the Commission would like to register its dissatisfaction with the judgement which prohibits it from executing its constitutional anti-corruption mandate in relation to the M&J case. The Commission would, therefore, take the necessary steps to challenge the judgement."
The statement said CHRAJ believed that its Commissioner, Mr Justice Short, never made any prejudicial statements.
Earlier, when the Daily Graphic called at Mr Short's office Tuesday on an appointment for an interview on the court's ruling, particularly whether CHRAJ would appeal against the decision or not, he declined to grant the interview, on the basis that the Commission would issue a press release on the matter.
"I do not want to comment on the matter," the calm-looking CHRAJ boss said.
He said although the comments he had made on Metro TV's Good Evening Ghana Programme, which instigated the court action against the Commission, were, in his opinion, nothing prejudicial, the court held a different view and he therefore would not want to make further comments on the matter.