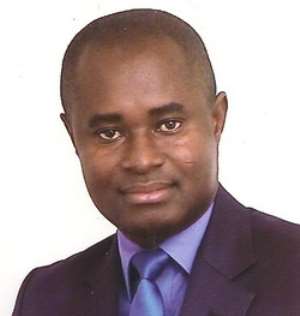 James Agyenim-Boateng, Deputy Information Minister
Anti Corruption Campaigner, Vitus Azeem is worried about the handling of two cases of alleged acts of corruption.
He cites the Mabey and Johnson bribery scandal and the Daimler Chrysler-Ghana military equipment procurement issue as instances that could erode gains government has made in the fight against corruption.
Mr. Azeem was speaking to Joy News on the Corruption Perception Index. Ghana scored 4.1 out of 10 and ranks 7th among 47 African countries and 62nd among 178 countries surveyed worldwide this year.
The score is an improvement over last year's score of 3. 9.
Mr. Azeem who is the Executive Secretary of Ghana Integrity Initiative, local chapter of Transparency International, said the latest score is impressive but certain inactions could erode the gains made.
He said the government's silence on the compensation that accrued to the nation by virtue of Mabey & Johnson's admission in a UK court that it bribed some Ghanaian public officials, is symptomatic of the lack of transparency in the country.
"If the government has decided that they are not going to take it, they should let Ghanaians know that they are taking it and give us the reason why they are taking it [the compensation]," he said.
Mr. Azeem emphasized the need for the country to strengthen its fight against corruption by enacting the appropriate laws.
"We have emphasized the Right to Information Law which is a pre-requisite for transparency in governance. That law has been pending for about 10 years now."
He said even the current laws on corruption have some inadequacies and need to be relooked at.
Reacting to the CPI score of 4.1 and the concerns raised by Mr. Azeem, Deputy Information Minister, James Agyenim Boateng, said the score was an indication of the government's commitment to vigorously fighting corruption.
He said the government inherited institutions meant to fight corruption in a moribund state and tried its best to put them on a sound footing.
Citing the Serious Fraud Office, he said, "we had an institution which we inherited literally on its knees with dwindling capacity. Their salaries at some point had been cut. In the whole of the eight years of the NPP administration, not a single vehicle [was given them], so they lacked the logistics.
"What this administration under the Better Ghana Agenda has decided to do was improve and build on their capacity by giving them more training and resourcing their personnel. Again their salaries which were cut were restored," he said.
On the silence of government on the M&J and Daimler issues, the Deputy Minister said he was not abreast with the Daimler case.
But on the M&J case, he said the officers involved did the honourable thing by resigning their positions.