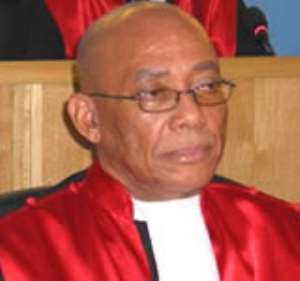 Emile Short, CHRAJ Commissioner
Pressure group, Alliance for Accountable Governance (AFAG) is accusing Mr Emile Short, Commissioner of the Commission on Human Rights and Administrative Justice (CHRAJ) of deliberately making prejudicial statements to halt investigations into the Mabey and Johnson bribery scandal.
At a press conference in Accra Friday, the group's spokesperson James Kwabena Bomfeh said: "We suspect that Justice Short's comments were deliberate to ridicule AFAG's call for accountability as he had done in the past."
Last week, the Human Rights Court in Accra upheld submissions of prejudice against the commissioner in a case brought against him by ex-government officials; Kwame Peprah, Alhaji Amadu Siedu, Dr. Ato Quarshie, Alhaji Baba Kamara and Brigadier General Ativor to prohibit CHRAJ from hearing bribery allegations against them.
The judge ruled that it was wrong for Commissioner Emile Short to make prejudicial statements on television on a matter pending before the Commission. The Commission, was therefore, ordered to stop its investigations into the alleged bribery scandal.
But AFAG claims Mr Short made conclusive statements because he was reluctant to investigate the matter and accused the Commission of being selective in investigating corruption allegations.

"The comments opened another door for litigation. As much as we find the avoidable comments of Justice Short as unfortunate and unwarranted, we are of the strong opinion that the learned judge (Justice U.P. Dery) could have asked Justice Short specifically to step aside to allow the Commission to continue with the investigation," Mr Bomfeh said.
Mr Bomfeh also accused the Commission of "running away from its responsibilities when it matters most".
He cited a case that was brought before it by AFAG on the Minister of Foreign Affairs, Alhaji Mohammed Mumuni, but after a "long period of silence", the group were told that CHRAJ had no jurisdiction to investigate the matter.
Story by Isaac Essel/Myjoyonline.com/Ghana