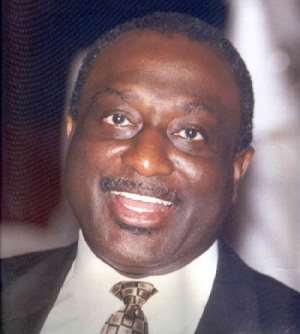 Mr. Alan Kyeremanten
Ever since the NPP opened nominations for its presidential primaries, five people have indicated their intention to run in the upcoming elections. These are Prof. Frimpong Boateng, Evangelist Kwame Koduah, Hon. Isaac Osei, Mr. Alan Kwadwo Kyeremanten and Nana Akuffo Addo.
Of the five contestants, no one's name raises more eye brows than that of Alan Kyeremantan. And this has more to do with the man's persona than his personality. Mr. Kyeremantan, I must admit, is a very good looking man and has a lot of appeal not only within the NPP but among some floating voters and even some members of the other parties.
These not withstanding, I have serious issues with Mr. Alan Kyeremanten's decision to be NPP's presidential candidate. If it may be recalled, four months after the last NPP presidential primaries in late 2007 we read with dismay Mr. Kyeremanten's letter of resignation from the NPP in the media. Among others, Mr. Kyeremanten cited harassment of his supporters in the NPP as the reason for his resignation. Various top members of the NPP expressed their disappointment with Mr. Kyeremanten's decision. But the one that resonated with me the most was that of Mr. Hackman Owusu Agyeman when he said 'True Danquah-Busia men don't behave like this'.
I am an NPP member; an obscure one of course. My membership of NPP is not preconditioned on what I stand to gain from the party. It's my belief in the ideals and principles of the Danquah-Busia-Dombo tradition. These ideals and principles are innate and they are non negotiable. I cannot see myself belonging to any other party because they will not share the same beliefs as the NPP. I don't agree with every decision of the party. Indeed the actions, inactions and utterances of some members of NPP have been distasteful or humiliating at times but not on one occasion have I even fiddled with the idea of resigning or dissociating myself from the party. Mr. Kyeremanten, a former Ghana's ambassador to the United States during NPP's term, a former NPP minister of trade and industries and someone who has run for the highest office of the New Patriotic Party (presidential candidate) must have more of the above beliefs and principles than me. This is the more reason Alan's resignation in 2008 raises questions a lot of questions for me. Alan's resignation raises questions about his allegiance, loyalty and commitment to the party and the foundation of his belief in the ideals of our great tradition. What is his motive for being a member of the NPP? I wish I could answer this question.
Following Alan's resignation in 2008, some elders of the NPP including Mr. B.J. Da Rocha decided to intervene and convince him to rescind his decision. I would like to remind readers that this happened when the NPP had started its 2008 presidential campaign. A lot was at stake at that time and no one can convince me that Alan's resignation didn't affect our 2008 campaign. But Mr. Kyeremanten was not ready to budge. He issued a second statement affirming his earlier decision to resign. In response to Mr. Kyeremanten's second statement, this is part of a statement that Mr. Da Rocha of blessed memory issued.
"These complaints are like flee bites compared with what many loyal members of the party have suffered and endured in the past without even contemplating leaving the party. I think it will be a very bad and dangerous precedent for the NPP to allow any member to dictate to the party the terms on which he will continue to be a member. I think Mr. Kyerematen is bluffing the party. The party should not tolerate such bluff". Mr. Da Rocha added that if Alan was received back into the party he 'would be a disruptive factor, a stumbling block, and loose cannon'. (emphasis mine)
Eventually president Kufour convened a three hour meeting comprising himself, Alan and Nana Addo, the presidential candidate at the time. After the meeting Alan rejoined the campaign and went on some campaign tours with Nana Addo. However, to date no letter of rescission or application for readmission to the party has been issued by Alan. I haven't heard of any either. Again, we don't know what demands Alan made of Nana Addo or the concessions Nana Addo had to make to Alan for him to return. All we know is that Alan returned to the campaign. I smell some political blackmail here.
Recently at one of Alan's tours in Greater Accra, he is reported to have stated in response to a question that he never resigned from the NPP and that he only complained about certain issues in the party. I think that was very insulting to say the least. Does Mr. Keyeremanten think we have short memories? Mr. Kyeremanten's aide, Yaw Buaben Asamoa was on peacefm the next day and was struggling to defend this answer. He ended up saying that if there were any issues with that letter the vetting committee of the NPP will sort that out during the vetting. I have heard this same refrain in other media. Buaben Asamoa further argued that if Alan wasn't a member how come he helped so much in the campaign? My simple answer is there are so many non members of the NPP including musicians who helped in the 2008 campaign. Your participation in the campaign alone cannot imply your return to the party.
Disruptive factor?
When Mr. Da Rocha said Alan could be a disruptive factor some people in and out of the NPP took issues with him. I also had a problem with the statement at that time as I thought we needed all hands on deck for the campaign. I believe I was preoccupied with ensuring the success of the campaign so I failed to see beyond the campaign. However I'm beginning to see the wisdom in Mr. Da Rocha's statement.
Why does Alan want to be the presidential candidate of a party he resigned from barely two years ago? Does this not smack of disrespect for the members of our respectable party? Was it his failed ambition to be our presidential candidate that drove him to quit the party in 2008? Is Mr. Kyeremanten qualified to contest the NPP primaries now?
Article 12(4) I states "No member shall be entitled to nomination as the party's presidential candidate unless he or she is a known and active member of at least (5) five years". Unless anyone is able to prove that Alan's resignation didn't truncate his membership I don't know how he qualifies to be a presidential candidate. I believe Alan is not oblivious of this fact so I'm at a loss as to why he is still campaigning to be the party's presidential candidate?
There are currently three (3) schools of thought on the question of Alan's qualification. I have heard one group including two people from Nana Addo's side (Gabby Asare Okyere-Darko and Dr Amoako Tuffour) state that Alan's resignation should not be used against him. This is the group I will call 'Leave him alone group'. I couldn't disagree with them more given the bad precedence we shall be setting for the party. I believe their thinking is that he will not win anyway so let's not do anything that will divide our front. My opinion is if any of the party's constitutional provisions will be breached by allowing Alan to contest then we should preserve our constitution.
There's yet another group that argues that we should let the party structures resolve the legal conundrum concerning Alan's qualification. This is where I think Alan's group belongs. So far I have heard his people alluding to the fact that the vetting committee will resolve the legal quagmire, if any, surrounding his candidature in the vetting. Ordinarily one will expect the vetting committee to be able to invoke the NPP constitution to disqualify Alan. However, Alan and his people know, as well as I do, that the vetting committee will be minded by the effect of Alan's disqualification on the unity of the party and the ammunition it can give to our opponents in 2012. The vetting committee is going to find itself in a quandary if this onerous burden is placed on their shoulders. Do we disqualify Alan and create disaffection in the party or we should bend the rules of the party because Alan has quite some following that we cannot easily discount? This is why I have a problem with Mr. Kyeremanten's decision to contest the NPP presidential primary for I believe he is trying to emasculate the party. This is a clear case of calling the party's bluff.
The last group advocates for a legal action to stop Alan from contesting and I must admit this is where I belong. I'm in support of those advocating that we use a judicial system outside the party to resolve this albatross that Alan wants to hang around the neck of the party leadership. If we go for a judicial resolution (just as it happened in Kwame Pianim's case) no one can blame any other candidate or group of people for Alan's faith. The tendency for his disqualification to create disaffection among our ranks will be minimized. In any case how does Alan want other contestants to behave should he win the presidential primary or what's the guarantee that this time round he will not resign should he lose the primary?
I think Alan's behavior thus far is very egoistic, ambitious and self seeking. He epitomizes a typical 'it's either me or no one else' character. The New Patriotic party is bigger than any one person and we can not subsume the interest of the party to that of any particular person. This man should not be allowed to hold the NPP to ransom.
Long live NPP!!!!!!!!!
Tweneboa Appiah-Kusi
[email protected]