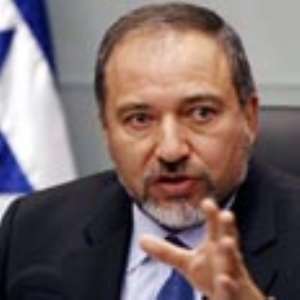 Avigdor Lieberman has sights on Africa

Foreign Minister Avigdor Lieberman will leave Wednesday for Africa, where he will visit Ethiopia, Kenya, Ghana, Nigeria, and Uganda. During his visit, he will bring up the Iranian issue in light of Iran's efforts to develop ties with the continent.
Some 20 businessmen from the energy, agriculture, shipping, water, infrastructure, chemical, media, and military industrial sectors will accompany the minister on his trip. Senior government clerks from the Foreign Ministry, the Finance Ministry, the Defense Ministry, and the National Security Council will also join Lieberman.
On the eve of his departure, Lieberman said, "A visit to Africa has great importance for the strengthening and improvement of Israel's status in the international community and will help advance Israeli interests in international forums. In addition, the visit will strengthen economic and business ties between the countries."
Lieberman added that his visit is part of his plans to develop new channels in Israel's foreign policy. "Israel has been absent for many years from entire regions in the world. During my visit to South Africa, I realized the great importance hosting states place on these visits and their contribution to relations between the countries," said the foreign minister.
Minister Lieberman will start off his African tour in Addis Ababa where he will meet with the prime minister and his Ethiopian counterpart. While there, he will consecrate a project for developing farming human capital in Ethiopia. The United States is also a partner in the project. Israel's Agriculture Minister, the US ambassador, and a representative from USAID will also participating in the project's launch ceremony.
Foreign Minister Lieberman will travel to Nairobi, Kenya on Friday where he will meet with the president, the prime minister, the foreign minister, and the water minister in order to sign a Kenyan-Israeli water agreement. Lieberman will also meet with the Jewish community at the synagogue in Nairobi, and hand over a donation of agricultural kits from Israel to Kenya. He and the UN under-secretary general are also expected to sign a renewed and expanded cooperation agreement between the countries.
Lieberman will visit Ghana on Monday where he will meet with the president and the foreign minister. On Tuesday, he will visit Nigeria where he will meet that country's foreign minister, the vice president, and the defense minister. He and the trade minister will also sign a trade agreement between the two countries.
During his visit to Nigeria, Lieberman will also sign on a memorandum of understanding and cooperation implementation agreement with the Economic Community Of West African States (ECOWAS).
On Thursday, Foreign Minister Lieberman will land in Uganda where he will meet with the president and the foreign minister. He will also participate in a memorial ceremony for the victims of the Entebbe rescue operation.