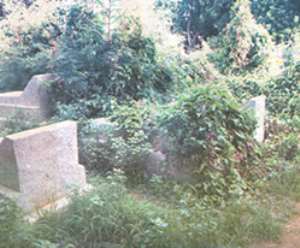 Little Kobby, a pupil at the Local Authority Primary One, is very intelligent and sociable at home but dull and moody at school.
He cries on his way to school daily and no amount of pampering or candies could kick him to walk briskly as others.
He sometimes digs in his feet like an ass refusing to go any further especially when he reached the last spot- a public cemetery near his school.
The cemetery with its quiet features and dark canopies of trees is not a scare to only Little Kobby but many other pupils, who look the other way to avoid looking at the cemetery.
Gradually, the situation becomes better as these young pupils grow in age and courage and begin to walk to school all by themselves, however, with some lingering fear.
Mr Francis Galenku, a Psychiatric Nurse, confessed that even at Junior High School, he preferred to use other long and tortuous routes to school just to avoid a shorter route through the cemetery.
He said anytime school was about closing, his mind went to how he was going to get home without having to look at the cemetery just opposite his classroom.
Obviously, this fear of the cemetery goes beyond emotions to affect the academic work of pupils and students, who either pass through a cemetery to school or think about it while in class.
Cemeteries all over the world are supposed to be sacred places where the dead are consigned till the end of time. Several myths are associated with cemeteries across all religions and cultures in Africa.
The Reverend Jerry Hansen Wedanu, Volta Regional Coordinator of Ghana Youth for Christ, said Christians have a lot of respect for the dead and as such revered their final home - the cemetery.
Traditionalists also consider cemeteries as the home of ancestors and consequently seclude it from where people live in order to give them a quiet and serene repose.
Until recently, people did not visit the cemetery at will for fear of encountering ghosts or spirits. Few people, however, go there secretly in the night for spiritual purposes. Some also visit the place once in several years to pay respect to the spirits of their dead relatives.
These days, cemeteries have become the home for many schools in Ghana. A high percentage of schools from basic to tertiary levels are located where cemeteries used to be or near cemeteries.
In the Ho Municipal area, almost all Senior High Schools are either located at or near public cemeteries.
Part of the OLA Senior High School, Ho used to be an old cemetery; Mawuko Girls, Mawuli School and Kpedze are all located near cemeteries.
Many other private and public basic schools are located at or near cemeteries in the Municipality.
The situation is not different from other districts or regions. Many people would argue that the situation is due to the high demand for land and its scarcity in recent times.
Yes while this could be true, a critical consideration ought to be given to the consequences of locating such institutions, some for children in their formative years, at or near cemeteries.
The phenomenon of occultism in schools could be a direct or indirect consequence of locating secondary schools at or near cemeteries.
Some students of such schools have turned those cemeteries into their classroom annexes and are always found there whenever they were out of class.
They play with all kinds of spirits with the help of their "occult masters" as they test the powers of the spirits. Some of them are even bold enough to bring some of the spiritual materials to the classroom to demonstrate their powers to colleagues.
Some deviant youths, who use prohibited drugs, find cemeteries to be safe havens for smoking Indian hemp 24/7 and some students are lured to pick up these dangerous habits.
Such deviant students acquire the "skills" very fast and also visit the cemetery with their notebooks under the pretext of going to learn but end up smoking Indian hemp.
One wished that ghosts were still active as they were said to be some years ago, to discipline these students.
Under the circumstances stakeholders in education should give critical consideration to the choice regarding the location of schools before their establishment.
This is because the location of schools could either make or unmake the very people for whom those institutions were being established.
Heads of schools that are already situated at or near cemeteries must make stringent regulations to deter students from going to the cemeteries, which are the exclusive abodes of our ancestors, who must be left to rest in perfect peace.
Credit: Anthony Bells Kafui Kanyi [GNA]