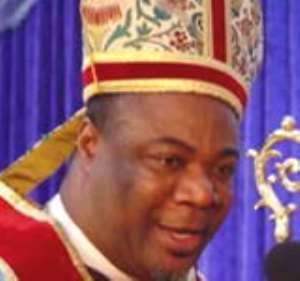 The General Overseer of the Christian Action Faith Ministries, Archbishop Nicholas Duncan-Williams has married again after divorcing his first wife, Francisca.
He got married to an African American after his 26-year-old marriage broke down some few years ago.
Archbishop Duncan-Williams got married on Saturday to a United States-based international consultant, Rosar Whitaker at a private ceremony in their home in Maryland, USA.
Some members of the church who spoke to Joy News wished him well.
In 2001 then Bishop Duncan-Williams remarried Francisca after divorcing her in 1999, following series of counselling and interventions.
But years after the remarriage, irreconcilable differences rose between them again warranting a public statement by the Bishop to his congregation in 2006 that he had taken a firm decision to divorce Mama Francisca as she was called.
The matter went to court and was later settled out of court.
After opting for an out-of-court settlement on the divorce case, the General Overseer of the Christian Action Faith Ministries went back to court to seek custody of their children.
The elder daughter of the couple, speaking on Joy FM accused her mother of being bossy and always looking down on her father.
She said she and her siblings could no longer bear the agony of their father being mistreated by their mother and were therefore solidly behind him the divorce effots.