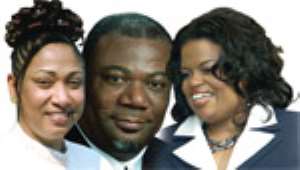 MATTHEW 19.9: "AND I SAY TO YOU THAT ANYONE WHO DIVORCES HIS WIFE, EXCEPT FOR SEXUAL IMMORALITY, AND REMARRIES COMMITS ADULTERY, AND WHOEVER MARRIES HER WHO IS DIVORCED COMMITS ADULTERY". – New Testament.
Notwithstanding the above biblical injunction, the General Overseer of the Christian Action Faith Ministries (CAFM), Archbishop Nicholas Duncan-Williams has shunned efforts to reconcile him with his wife Francisca and married an African-American woman.
The private marriage ceremony was said to have been held in Maryland, USA, last Saturday.
The pastor remarried after his 26-year-old marriage with Francisca broke down a few years ago.
Archbishop Duncan-Williams got married to a United States-based international consultant, Rosa Whitaker, at a private ceremony in their home in Maryland, USA.
DAILY GUIDE learnt that when Pastor Ben Anom broke the news to the congregation at yesterday's service, it was received with mixed feelings, with some members advising themselves on whether to continue with the church.
The Action Chapel General Overseer had been living mostly in the United States with his children, even before his previous marriage with Francisca hit the rocks.
The local church in Ghana had been under the care of Bishop James Saah, who was not at yesterday's church service.
In 2001, then Bishop Duncan-Williams remarried Francisca after divorcing her in 1999, following series of counselling and interventions.
But a few years later, irreconcilable differences developed, leading to the matter being dragged to court for final dissolution.
The Archbishop told his congregation in 2006 that he had taken a firm decision to divorce Mama Francisca as she was called.
The matter was eventually settled out of court.
After opting for an out-of-court settlement on the divorce case, however, the General Overseer of the Christian Action Faith Ministries went back to court to seek custody of their two boys whom DAILY GUIDE learnt had been brought down and enrolled in a popular international school at Abelemkpe in Accra.
The elder daughter of the couple, speaking on Joy FM, accused her mother of being bossy and always looking down on her father.
She said she and her siblings could no longer bear the agony of their father being mistreated by their mother and were therefore solidly behind him in his divorce efforts.
Rosa Whitaker is no stranger to Ghana.
She is the chief executive officer of The Whitaker Group, which was described as a registered Foreign Agent for Ghana.
As a lobbyist unit, The Whitaker Group (TWG) organised for Ghana several events including the film sponsored by the American Film Institute and Discovery Channel, Ghana – The Presidential Tour.
The film's premier was attended by a government delegation in Silver Spring, Maryland, led by President Kufuor.
Whitaker was an Assistant US Trade Representative for Africa under the administrations of Presidents George W. Bush Jnr and William (Bill) J. Clinton.
Prior to founding TWG, she was an architect of the African Growth and Opportunity Act (AGOA) and worked on World Trade Organization (WTO) and other trade initiatives directly under the current Chairman of the U.S. House Ways and Means Committee, Charles B. Rangel, and the current President of the World Bank, Ambassador Robert B. Zoellick.
With more than 25 years' experience in Africa, Archbishop Duncan-Williams' new wife has an extensive network of high-level contacts in the government and business community as well as public and private sectors throughout the continent.
When Archbishop Duncan-Williams went back to court to seek custody of his children with Mama Francisca, the Accra High Court Judge who was presiding over the divorce proceedings in-camera asked both parties to submit their respective written submissions on the matter.
A source close to the couple revealed that they were almost about to reach a compromise on the divorce issue when Duncan-Williams went to court to seek custody of their two boys who are teenagers.

The couple, who had been married for about 27 years, have four children; two grown up girls and the two boys.
According to the source, Duncan-Williams probably wanted custody of the children before any final deal could be reached on the divorce package for Mrs. Duncan-Williams, also a pastor, who helped him build the Ministry that now has branches worldwide.
Mama Francisca was reportedly fed up with the divorce issue, leaving the matter in the hands of her lawyer, Ken Brookman- Amissah.
A Report