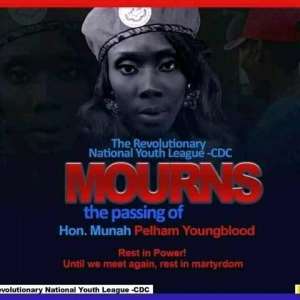 Today, we celebrate a heroine of moral courage, ethical excellence, and relentless diligence in making the CDC-led government great in the policies and practices of this country: The Honorable Munah Pelham-Youngblood. Like many of us, Munah Pelham-Youngblood participated in a movement – a protest – and it changed her live forever.
For Munah, a jail cell was as familiar as a police officer's baton. For her human rights work, police arrested this activist more times than they cared to count and suffered several brutal beatings at the hands of law enforcement.
This courageous human being, now among our greatest ancestors, disrupted the status quo – commerce/business-as-usual – for years before anyone took notice. She was attacked, despised, and criticized relentlessly by mainstream society and her own people, but she persisted. Only in her latter years did she receive the honor due to her.
Perseverance, tenacity, and determination among other things in this struggle link us to her. None of us are free until all of us are free, so we commit daily to the work of making CDC-led government marvelous in policy and practice knowing our struggle for justice is a part of the same continuum of human rights struggle led by Munah Pelham-Youngblood, James Gray, Papie Solo, et cetera.
Last Wednesday, July 8 lawmaker Munah Pelham-Youngblood passed away at 36 years old, leaving behind a legacy of activism and service that will echo for generations to come.
Her zeal for justice was only matched by her capacity for compassion. She sat in for justice and stood up for equality, she marched for jobs and rode for freedom. She provided a bridge from how far we've come and a road map to where we still need to be.
Lawmaker Munah never failed to remind us of our moral obligation towards one another. She lived her life acting on behalf of those that faced injustice and oppression and then encouraged us to do the same in the George Weah's regime – from the streets of Matadi to the halls of Capitol Building.
While many espouse the virtues of justice or a fidelity to true equality, it is the rare leader who inspires them in thousands. Munah Pelham-Youngblood was one of those leaders.
She sacrificed herself so her country she loved so dearly could one day be worthy of such an act. The words of our constitution may have been written by revolutionists in 1986, but they were given meaning by a revolutionary in 2012.
Her impact is inescapable. She showed us the power of organizing and standing up for what's right, and inspired us to dream bigger and push harder for the kind of world we want to live in. These lessons hold just as much, if not more, significance today.
Some years back, our country continued to grapple with injustice and violence, with how we welcomed and treated our own people, with how we respected and recognized the rights of Liberians everywhere, Lawmaker Munah's directive to cause "good trouble, necessary trouble" has never been more needed.
In a moment where we haven't been driven apart, in a nation that doesn't feel as divided under President George Weah as it was some years ago, let us allow Munah to further bring us together one more time as championed by President Weah. Allow her memory to continue to lead us toward that more perfect union.
Her legacy reminds us that we are truly one nation, one people, one destiny, but it also demands that we continue to work toward completing our unfinished business, her unfinished business: Justice.
Thank you, Munah, for being freedom fighter. Thank you for your service to the people of District #9 and our country as a whole. You are our heroine we will never forget.
Rest in martyrdom Munah, rest in martyrdom. Oh Munah, sleep in martyrdom doyen, sleep in martyrdom.