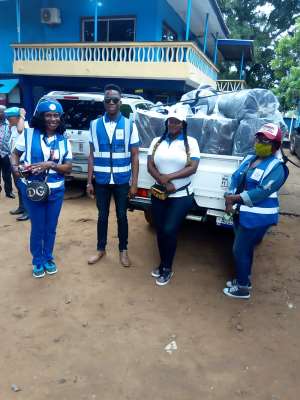 The Coalition for Democratic Change Special Taskforce Against COVID-19 continues its national awareness campaign today. The campaign will be carried out in West Point today where residents of the various communities will be sensitized, educated and informed about the coronavirus pandemic.
They will be taught the relevant preventive health measures formulated by the World Health Organization and the Government of Liberia through the Ministry of Health and National Public Health Institute of Liberia.
Although coronavirus has been infecting and killing thousands of people in China, America, Italy, and other parts of the world; it has killed a number of people in Africa with Liberia not being an exception, many people and communities remain skeptical or simply uninformed about the importance of taking simple, practical measures to protect themselves and their communities from the virus.
The messages from the CDC-STAC will inform individuals, families and communities in West Point, a tight and populated region in Liberia, in clear practical terms, of the ways in which they can minimize their risk of catching the disease, and help them to support their family and community members safely and humanely.
When used as part of real dialogue with and engagement of individuals, families and key stakeholders in the communities in West Point, CDC-STAT clear practical messages will help overcome fear and reluctance to alert surveillance teams to potential COVID-19 cases.
Included in the messages that the CDC-STAC will propagate to the people of West Point are the signs and symptoms of COVID-19 as well as the preventive health measures of the pandemic as follow:
COVID-19 is real and kills. But you can protect yourself, your family, and your community. Be alert – help stop the spread of COVID-19.
Wash your hands frequently with soap and water for at least twenty seconds after every social contact, or use hand sanitizers.
Avoid going to public gatherings and crowded places. Doing this will put you at a high risk of coming in contact with an infected person you may not know.
Do not touch parts of your body without washing your hands.
Speak with your local community leader if you suspect someone with COVID-19 in your community or call the toll free COVID-19 Hotline 4455 for advice.
Do not touch a sick person with suspected COVID-19 or someone who has died from COVID-19.
COVID-19 causes extreme tiredness, sudden fever, constant sneezing, coughing, and difficulty breathing. If you have a sudden high fever after contact with a person with coronavirus, go to the nearest health facility.
Early treatment of COVID-19 at a health facility increases your chance of survival. By going to the health facility the moment you have symptoms, you protect your family and community and help stop the spread of the disease.