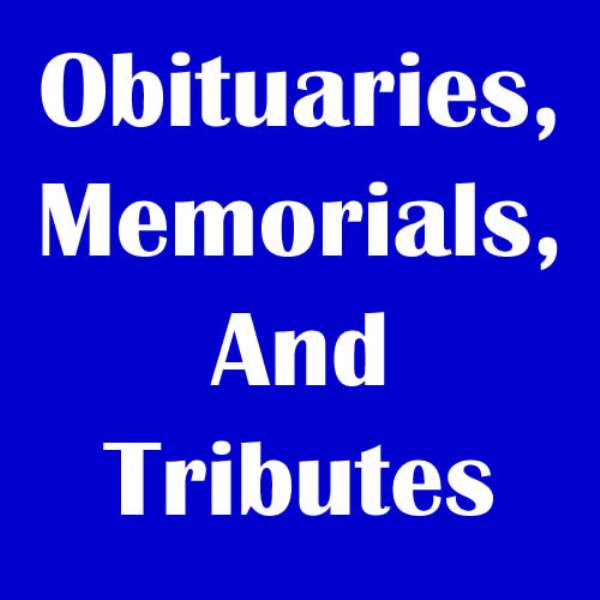 Have you ever thought about what will be written about you in an obituary, memorial, or tribute for people to know about you? Or, if you were to write your own obituary, memorial or tribute what would you say about yourself? How do you want people to remember you? Or, better still, what would Jesus write as your obituary, memorial, or tribute?
Reading obituaries, memorials, and tributes in newspapers, magazines, journals, and posters about people whom we do not know is not a habit many have developed. We do not read them in part because we do not want to be reminded or think about our own death. However, it is interesting to read or know what people say about their loved ones who depart from this earth. It would be even more interesting to know if the departed would have approved of how their lives have been summarized in obituaries, memorials, and tributes in newspapers, magazines, journals, and posters.
Many of us do not want to think about death, and that is understandable, but death will certainly come. All of us are going to die one day. The rich and the poor die; the strong and the weak die; and so do the old and the young. Knowing that we will die one day should humble all of us.
Obituaries, memorials, and sometimes tributes are short summaries of the important highlights of a person's life. They cannot contain all the important things. Therefore, the writers are those who know the deceased very well and can be sensitively selective to identify the most important things in a concise manner. For many dearly departed, their obituaries, memorials, and tributes may include age, schools attended, graduation dates, degrees, professions, businesses, employments, positions, titles, achievements, spouses, children, prominent family members, and hobbies.
For those who are Christians, how about squeezing in a few Christian milestones, such as the date they gave their lives to Christ or were born again (if known), the date they were baptized, and the date they were confirmed? How about a brief mention of Christian institutions and individuals who helped to positively influence and shape their lives and pointed them in the narrow way to Christ?
However, the best obituaries, memorials, and tributes are those which may be written by Jesus who knows us best. Jesus said to the seventy-two followers who returned from a mission that they should not rejoice that spirits subjected to them, but they should rejoice that their names were written in heaven (Luke 10:20). The writer of the Letter to the Hebrews, too, mentions the church whose names are written in heaven (Hebrews 12:23). In addition, Paul makes references to some of his fellow workers whose names are written in the book of life (Philippians 4:2-3). From these, we may infer that some writings, whether literally or figuratively, are going on in heaven, perhaps aided by the multitude of angels. Therefore, those of us who aspire to go to heaven must be curious about what may have been written or is being written along or beside our names in heaven. That could be the divine obituary, memorial, or tribute.
Fortunately, Jesus has given us hints about some of the things that are expected of those who desire to inherit the kingdom of heaven. While salvation is by grace through faith in Jesus Christ, and that it is not by works, we were also created in Christ to do good works (see Ephesians 2:8-10). The hints provide ideas about some of the works on which we should focus our resources or some of what Jesus may be looking for when the judgment day comes. They include a set of criteria stated in Matthew 25:31-46 addressing how we handle the simple, basic human needs of the least among us.
Specifically, Jesus is interested in how we help the least among us in matters related to hunger, thirst, strangers, clothing for the naked, care for the sick, and visits to prisons. According to Jesus, whatever we do for one of the least among us, we do for him. The overriding principle is love for God and our fellow human beings, particularly the least among us. Jesus would agree with the Apostle John who wrote that those of us who claim to love God, but hate our brother are liars because if we do not love our brother whom we see, we cannot love God whom we do not see (1 John 4:20-21). We should not wait till we have enough resources to solve world hunger and other problems; one hungry person or one needy person at a time is a good start for Jesus.
Somewhere in our obituaries, memorials, and tributes, would there be justification and space for Jesus to write, "well done, good and faithful servant!?" (Matthew 25:21). Would there be justification and space for Jesus to write that we fed the hungry, gave drink to the thirsty, welcomed strangers, clothed the naked, cared for the sick, and visited those in prison? Or, would our obituaries, memorials, and tributes be filled with so many egocentric and worldly achievements that there would be no justification or space for the weightier matters of love for God and the least among us? Within the bounds of God's love, grace, and mercy, now may be a good time for all of us to start shaping the content of our obituaries, memorials, and tributes.
Prayer is the key. May God grant us the grace to seek Him daily through our prayers.
Dr. Daniel Gyebi, Attorney-at-Law, Texas, U.S.A., and Founder, PrayerHouse Ministry, Kumasi, Ghana.
PrayerHouse Ministry is dedicated to providing a quiet facility for Christians to pray individually by themselves without any intermediary priest, pastor or any other person. This is a free service. No money is demanded or accepted. One facility is located at Kyerekrom / Fumesua, near Building and Road Research Institute Offices, one mile off the Kumasi-Accra Road and next to a house called Grace Castle. If you are interested, please contact Agnes at 054-7498653. Another is located at Kantinkyiren, at the junction of Kantinkyiren and Konkori, off the Kumasi-Obuasi Road, branching left at Trede junction. Contact Kwadwo at 020-8768461 / 0246-989413.