How The Fight Of Covid-19 Turns Into Dronevid-19 ( The Case Of Ghana)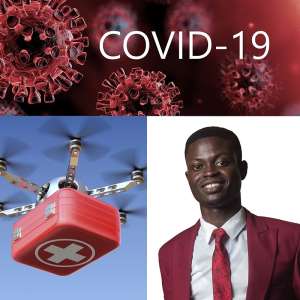 Sitting in my bedroom, with a serene atmosphere, Sound was silent, emotions shuttered, it seems my whole being only allowed my mind to reflect on the issues which flooded our public domain "the past three years". Covid-19 is a pandemic that admittedly took the world by surprise, this brought a niggle at the back of my mind flaring me to the "Drone deal". Some people are born to spectate through their Bellies which NDC is not an exception, others to see through the vicissitudes of time with their " mind eye". Leaders are born but true leaders are God-sent. The Nana Addo led administration has a DNA of a Jewish prophet in them; they could see beyond the curtains of natural. I still wonder to myself how Dr. Bawumia managed to envisage the impact this global pandemic could have had on our health sector without the Drones. Their administration has shown not once, not twice but times without number that, " they were elected to rule not to ruin Ghana".
The NDC and their political maculates resorted to the "proverbial cry of a wolf" by suggesting packrat of things which the money to procure the drones could be used for just to abacinate Ghanaians on how useless Drones services are to our health sector back then. Here are some of their political agitprop they rabbit before the court of public opinion about the Drone deal;
Mr. Joseph Yieleh Chireh, the minority spokesman on Health downplayed the significance of drones describing it a "misplaced priority" such a mind which could not see beyond one day, should be provided with waste bin so His ideas could readily and easily be disposed off to avert him harm our nation with it. Mr. Bagbin MP for Nadowli Kaleo registered His disapproval by describing the purchase of the Drones as " Catastrophic ". He suggested the money involved in the purchase of the Drones could be used to build CHIPS compounds. He concluded, Ghana is not a hilly country to need the services of Drones in Her health sector ( Interesting perspective). The former Ghana " HEAD OF ACHE" Mr. Dramani Mahama employed himself into the discussion and chided the president to get " his priorities right ", He lectured that, Ghana needs no drones in her health sector and hence its purchase is a misplaced priority, keeping to himself, how He and his administration managed to profligate $20 million on "guinea fowl with burkinabe passports". A calumniation from the NDC National Women's Organizer was as intellectually adolescent as it was astonishing, her comments got my heart racing that I took in some chilled water to slow down the racing of my heartbeat. She said, " The Drones will take naked pictures and film women bathing in the Villages". She added, " When I see a drone over me, I will hit it with a stick". Their comments, like the stupid slave who says his condition of bondage was good after a heavy meal, meant that, CHIPS compounds is enough facilities to wriggle Ghana out of health crisis so drones are needles.
This Covid -19 and the enormous role Drones have played have exposed the NDC myopic thinkers. In this era of forced social distancing as a result of the pandemic. The drone technology has had a bandwagon effect on both the patients and health professionals. The saviour and biggest allies in the fight against this invisible enemy is the Drones, their versatility and fairly extended technology that is easy to implement made Ghana conducted 68'000 test during the lockdown. The situation of forced isolation due to the rapid spread of covid-19 precipitated the adaptation of intelligence which could help travel samples at a faster and contactless rate, and the drones did that in a marvelous way. Test samples that could have taken days before reaching specified testing centers took less than an hour to reach there for immediate health analysis to be conducted on them as a result of the drones technology. The drones has reduced the community spread, health personnel infections through samples in this way, " once the drone reached the testing facility, it opens up its belly, drops the box filled with samples using a parachute to ease its landing. A healthcare personnel disinfect the box and take it inside to be processed. This intelligence helped Ghana to become the first Africa countries to ease it three weeks lockdown restrictions on movement. Subsequently, in Ghana, drones have taken over the fight of covid-19 in such that, the spread has been minimized through contact with samples. Had it not been the drones, Ghana's case would have been in Tens of thousands.
The Nana Addo led administration deserves an ocean of appreciation by prioritizing life over personal gains. Those who thought drones services are useless to our health sector should "bow their head in shame" , they are not worth the vote of many Ghanaians who could have died out of Covid -19 considered Nana Addo led administration heed to their confabulations.
Nana Addo and his administration became a sacred cow, and were butchered with harsh and malicious words mainly because they chose to save the life of Ghanaians. The NDC conscientious objectors only see problems of today and leave that of the future to the mercies of their bellies, they are a threat to the life of Ghanaians. Nana Addo and his administration deserve to be hailed and worshipped for their ability to see this pandemic far beyond human eyes. The drones was indeed meant to save Ghanaians lives and its purchase was never a "misplaced priority". Not even time nor the New Discovered Coronavirus (NDC) could dictate how and what Nana Addo was meant to do for Ghana.
#God bless our Homeland GHANA and make her great and strong
#God bless the Nana Addo led Administration
#4 More 4 Nana To Do More