Director Of Broni Hiani Movie Expresses Appreciation To President Mahama, But...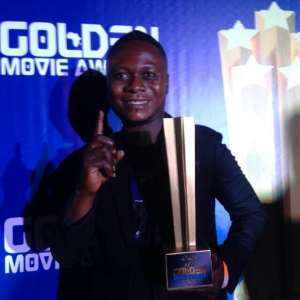 The director of the much talked about movie, Broni Hiani, Mr. Fiifi Garben has expressed his appreciation to the president of Ghana, President John Mahama for his recent good remarks on his movie.
Mr. Fiifi in an interview with Dess FM 90.3 in Bekwai_Ashanti on their entertainment show, Dess Entertainment, told OGEE, the host that he is very much grateful to the President for recommending his movie to Ghanaians. He also pleaded with the president to seek to the passing of the Film Bill which had been a matter of discussion so as to help home producers and directors.
"I was very happy when I heard President Mahama has praised us on our good work. In fact, it is not easy for your work to be recommended by the President of the land. It means that when you do the right job, you will get a good result. Most at times, people talk about the bad sides and forget about the good aspects. The president has indeed shown that he watches our local movies and it's a plus to we the local producers and directors."
"One thing that I will want to put before the president is that he should help in passing the Film Bill to help us to deliver more and quality movies to Ghanaians."
President Mahama was in the news recently to have praised two Kumawood movies, Broni Hiani and Sure Banker which according to the president he enjoyed during the Christmas Holidays.
Broni hianii has picked two international awards in london and was adjudged peoples choice movie of the year at gn bank peoples choice awards last year , no wonder the president of the land President Mahama showing interest in the movie.
The movie features gallant actors and actresses like Van Vicker, Kwadwo Nkansah Lilwin, Bill Asamoah, Emelia Brobbey, Bernice Asare, Nana Okyere and others