Lingua Kat didn't write Kaakie's songs alone - JMJ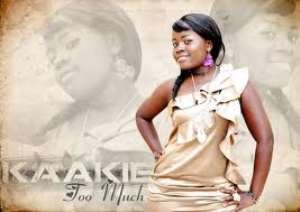 THERE HAS been a silent controversy over the past few weeks as to who the actual writer of Kaakie's top hit songs, 'Too much', 'DC tun up' and 'Top gyal' between song producer, Jah Master Jay (JMJ) and Lingua Kat, a new act in dancehall music.
In reference to a story published by The Heritage Newspaper headlined 'Dancehall music needs investors-Lingua Kat' where the artiste (Lingua Kat) acknowledged himself as the writer of the above mentioned songs but Kaakie's management has totally disagreed over his claim of ownership to the songs.
In an exclusive interview with The Heritage, Jah Master Jay (JMJ) agreed to the fact that he, Lingua Kat wrote Kaakie's songs 'Too much', 'Top gyal' n 'DC tun up' noting that he saw Lingua's claim to the songs posted on facebook and didn't want to say anything about but truthfully "the lyrics of 'Too much' that he wrote was too hard core for the normal Ghanaian to understand so I approached Stonebwoy and Samini to soften it and that's what you hear all over town."
He instigated that there is a vast difference between Stonebwoy and Lingua Kat as Stone sings and he added melody to the song but Lingua doesn't and that brought about the prefix of the song 'Too much' where Stone wrote verse 1, Samini wrote the verse 2 and took Lingua's as verse 3 of the song so "why on earth will he single handedly claim ownership of the song without conceding his co-writers even when we didn't use the first one he wrote alone?"
With 'Top gyal' and 'DC tun up', "he wrote them but I added the hooks to the songs that is 'pu pu pu se' and 'logoligi logoligi ofe3 mi' respectively and Lingua knows very well that's his weakness because even with his own song with Kaakie 'Sikili t3', I did the hook so does he still want to tell me that he wrote these songs alone?"
"I have plans of stating the names of every writer to all Kaakie's songs when her album is out so I don't see Lingua's reason for the rush besides he is sounding as if I did nothing to help him aside recording and producing him as our agreement says after writing songs for me but I personally sent him to my DJ friends to help in promoting the song he has with Kaakie though it wasn't part of our agreement", he concealed.
On the other hand, Lingua Kat when contacted said "so far as JMJ has confirmed that I wrote the song and it was hardcore before there was a prefix, I am still the writer because if I hadn't written the first one there would never have been any 'Too much'. Besides, nobody mentioned my name when the song became a hit so why should I also acknowledge my co-writers of the prefixed song?"
"Though there was an agreement between me and JMJ that when I write songs for him, he also records and produce me for free and I have six songs on his desk to be produced, but he never sent me to any DJs for any promotion, hence I paid the DJs to play my songs so what is he also talking about?", he lamented.