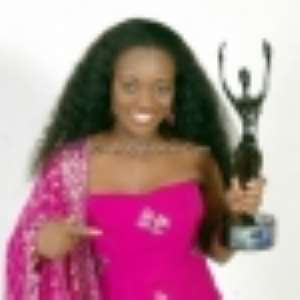 It is very obvious screen goddess Jackie Appiah will never forget the day News One newspaper published the sensational ' sex video' story.
She has expressed her disappointment at the publication by "News One" over such a sensitive story without any shred of proof or evidence, ostensibly to tarnish her image.
'We have families and we have fans, so if you write something like this about us in one way or the other it affects us…I was really disappointed in the newspaper that published such a fabricated story. It's really bad how some newspapers want to make money…It's a shame. It's very bad because there was no truth in what they published. There is no such thing as sex video, it all lies and just a plot to tarnish people's image. This didn't affect me alone.
"The whole entertainment industry and movie industry in particular was hurt because they didn't mention any names and now everybody was speculating and pointing fingers at wrong people. What we were all waiting for was for them to mention names then prove their video in court, but they run away with the story and they could come out with anything. But by the special grace of God we have moved on,' she said.
Jackie made this passionate disclosure when questioned about the alleged sex video in an exclusive interview with Kwasi Aboagye on Peace FM's 'Entertainment Review'.
It will be recalled that News One first reported in its February 14th, 2010 edition about the controversial tape with the headline '3 Top Ghanaian Actresses in Sex Video'. According to the story, they had in their possession a video involving a Nigerian businessman who is based in Ghana, having sex with three popular Ghanaian actresses separately. Though the paper did not mention any names, it gave clues which seem to suggest that the ladies were Jackie Appiah, Nadia Buari and Lydia Forson.
When the story first broke, Mr. Bennett Akuaku, Editor-in-Chief of "News One", stood by it and publicly promised Ghanaians on Peace FM, TV3 and other media outlets that they will mention names and publish images of the actresses in the act in their subsequent editions, but up till date, the paper has not substantiated their claims.
This Jackie said, is enough vindication that no such sex video exists. According to Jackie, she did not react to the story when it initially broke because no name was mentioned in the story.
Jackie live the the studios of Peace FM with panel members of "Entertainment Review" showcasing her awards.
The newly crowned Best Actress in Africa at the just ended AMAA in Nigeria, seized the opportunity to clear the air about the controversy surrounding her award.
She acknowledged that she indeed did win the award together with Lydia Forson and Naa Ashorkor Mensah Doku because the three of them played the lead role in 'Perfect Picture', but stressed that, she can only speak for herself when she is interviewed and "which will not change the fact that the three of them won the award."
When asked about her opinion on the recent increased in sex scenes in Ghanaian movies and whether acting partially nude in movies has had a telling effect on her marriage, Jackie said "most of the sex scenes appear the way we see them by the power of editing and it has not affected her marriage in any way, because her husband understands her profession and is sometimes there with her on set."
Jackie Appiah began professional acting when she featured in her first movie 'Divine Love' produced by Venus Films. That was after she made her first TV appearance in a soap opera 'Things We Do For Love' where she played 'Enyonam'. She has since starred in countless best-selling movies.
Before her AMAA this year, Jackie won AMAA for Best Supporting Actress in 2007. Her latest movies on the market are 'Who Loves Me?' produced by Venus Films and 'The Supremo' produced by Peace Films.
The pretty actress is currently on set shooting a new movie titled 'Black Mail' which is being produced by Diamond Films.
After the Africa Movie Academy Awards held on April 10, 2010 in Nigeria, Jackie was invited to Nigeria as the only Ghanaian at the official launching of the first ever African International Film Festival launched in Lagos on Friday April 23, 2010. She graced the night with fellow actresses Genevieve Nnaji, Ini Ido and Rita Dominic.