WHY PETER AND LOLA MAY NOT GET MARRIED NOW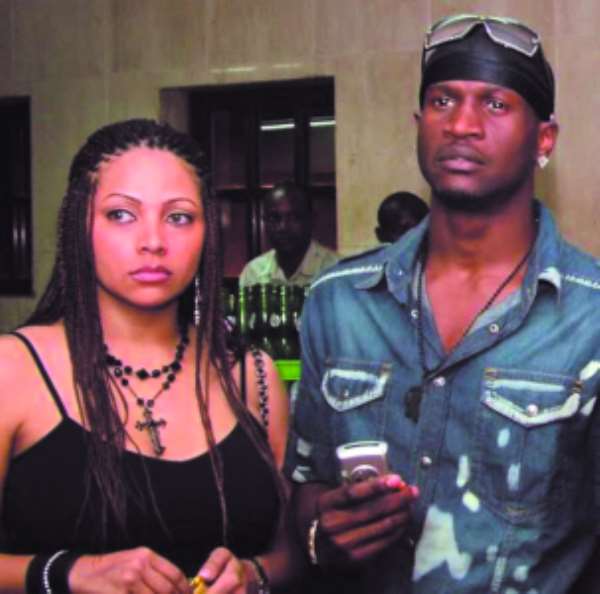 It's no longer news that one of the singing sensational duo, P Square, Peter isexpecting another baby from mother of his first son, Cameron, Lola Omotayo. A lotof public opinions, speculations and insinuations have it that, why on earthwould someone not be married to a woman and still expect to have another baby. Well,www.nollywoodgists.com canauthouritatively revealed that, there is more to this than meet the eyes.

While one group of tale mongers said that the debonair ex-public relationsexecutive has been unaccepted by the Okoye siblings, another has it that the domineeringattitude of this fair skin beauty is the cause of the delay in theirsolemnization.
"You will find Lola Omotayo 24 hours/ 7 days a week at P Square's Omole Estatevilla anytime you visit them. They live like husband and wife," disclosed adependable source in the neighborhood.
However, we can reveal to you that neither of the two tales is to be believed.Impeccable sources confided that the brothers, Peter and Paul Okoye have asecret pact to get married at the same time, day and venue. According to oursource, the two brothers have resolved not to allow marriage come in-betweenthem, thus their decision to get married at the same time.
"It is a sacrifice and a compromise both of them reached painstakingly in theinterest of their career and what they have both shared since childhood,"disclosed by a very close source.
How long Peter Okoye will wait for his brother, Paul is a question of time butthere are strong indications that he won't have to wait for too long. Paul whois the quiet of the two is said to be in love with a lady whose identity is yetto be revealed.
It will not be forgotten in a hurry that the identical brothers have doneeverything from cradle to their adult age together and have been inseparable.Aside attending the same Primary and Secondary schools, the two brotherspossess Diploma Certificates from the University of Jos (UNIJOS) and Degreesfrom University of Abuja (Uni-Abuja) respectively.
Click the link below to go to...
D'Banj Praying Against Death In Church [Picture]
Yvonne Nelson Mocks Lagos Airport , Nollywood Films On Twitter + Fab Pics From Her Recent Naija Trip
FEMI ADEBAYO SET TO QUIT ACTING…DECLARES INTEREST IN POLITICS
Celebs Storm iRoko TV Boss, Jason Njiku's Wedding To Mary Remmy [Pictures]
.Bishop Odulaja Encourages Congregation To Steal -Demands Dollars as offerings in his Lagos Church
I GET FAVOURS HERE AND THERE, THE BIGGEST IS A MURANO JEEP FROM A FAN
SIKIRATU SINDODO ROMANCES US BASED PROMOTER, TOLAD PROMOTIONS
Alleged Battering: Zaki's wife files for divorce, says, 'I can't take his beatings anymore'
P-Square's New Single, 'Alingo' Stirs Controversy From Timaya