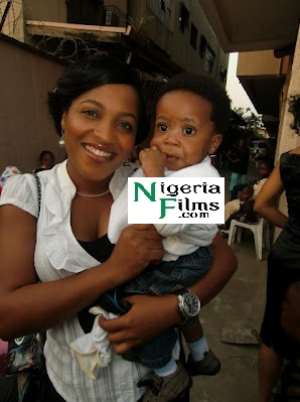 Grace Amah is a household name in Nollywood and among movie lovers in the country. She speaks with TOPE OLUKOLE on sundry issues in this interview. Excerpts
You look younger and beautiful after childbirth, what is the secret?
The secret is God and I have been taking good care of myself as well. To God be the glory, I am not looking different. I will say that I am looking younger than before.
Are you a single mother or a married mother?
I am not a single mother because the father of my child is there, it's just that…well, like I said, everybody has his own opinion but I am happy with the father of my child, and I am happy having my child, so I am not a single mother.
Is he completely single?
He is single and we are getting married by God's grace.
Congratulations, when are we expecting that?
Do not worry; you will know when the time comes.
How do you plan to bounce back in your career after the "sabbatical"?
I am working to come back and I will say that I am back to the industry really. I did a series that is on air now entitled: Atlanta. I will say that I am back.
How did you weather the storm of all the controversies that your pregnancy created?
I do not know why that issue created a lot of controversies, but I think I am a celebrity and obviously they might have looked out for Grace Amah's wedding first before such news came. I am sure that they were not expecting me to have a child before my wedding, and I do not know what triggered all the controversies, but I do not care.
How do you plan to be a good mother and a good actress?
Of course, I will have some time out and I am not going to be working all my life. I must have time for my work and a lot of time for my son because he is the most important. I really need to take care of him and have time for his father as well. So, I will be shuttling.
You have always painted the picture of a principled background, how did your parents react to this issue when it started off?
Really, there was the initial reaction of why I had to get pregnant before marriage, but it is a child and there is nothing anybody can do about it. So, they have to accept the child, nobody rejects a child.
Personally, how did you feel disappointing your parents?
I will not say that it was a disappointment, and I felt normal over it because it was not a disappointment. I have learnt to take everything as easy as I can, because if I am not a celebrity, I don't think that everybody will want to know about my private life. I see it as a good thing, because if I am in the limelight and people are not saying anything about me, it means that I am not doing well in my career. I do not feel anyhow about it because it is something that I am used to. I took it like any other thing.
Was there any time he rejected the child?
There is no normal human being who will reject a child; from the beginning the person should expect that things might turn out to be this way. So, why will a person want to do something like that except if the man is promiscuous or if he is not sure of being the father of the child. If the person is sure, why will you want to reject your own child? He is an innocent soul for God's sake. The father of my child never denied his kid.
>
Do you have any regret as an actress?
I have no regret because I see everything that happen to me as God's making. If God does not allow it, I don't think that it will happen. There is nothing that has happened to me or is going to happen to me that God is not aware of. He allowed it, which is why it happened to me in the first place.
Can you take us a little back to how the journey started for you?
I have always wanted to be an actress while I was in secondary school, so I took it up while waiting for my JAMB result.
I went to Winnis at Surulere where I met the likes of Frank Obaka, Ayo Adesanya alongside Halima Abubakar who is still my very good friend till today. I told them my intentions and they directed me on what to do, which I started immediately and I got my first role.
Were there sacrifices made to get first roles before you had the big break?
There were no sacrifices, because I got my first role a week after I went to Winnis to make my intentions known in August 1999
At a point, you were not regular in movies, what was the reason behind that?
Yes, I was not getting movie roles not because I was choosing roles, but I was still in school then. I was managing to switch between my academics and acting career then.
Why do you like keeping a low profile life?
I am a very simple person and I am from a very humble background. I was brought up in a very humble way; I was brought up without my ears pierced, that will show you the kind of background that I come from. I feel blessed to have parents who brought me up in Godly way, because not everybody has such opportunity.
I know that some people are brought up well, but maybe because of the industry they behave anyhow they like without looking back at where they are coming from. I always look back at where I am coming from, and it encourages me to have hope and faith.
I understood the type of parents you have, so how have you been able to weather the storm of having a child out of wedlock?
If I tell you that it was easy, I am lying, but it is about me. I will not want to rush into anything because people want me to do it. I will do it because it is convenient for me. I don't want to marry and come out from it, I want to marry and remain there. I don't want to marry because I just had a baby and people are pushing me to marry, that does not mean that I am not happy with the father of my child. I am going to face my career and he will face his own as well, we will make sure that we take care of our child. At the appointed time, I will get married.
So, how is your relationship with Mummy now?
Nothing happened to it, we are getting along very well, but you know how it is with the Igbo?. The truth is that they do not like things of this nature, but who are you? Are you going to question God. Rather, it should be the other way round.
Who is the real Grace Amah?
The real me is a God-fearing person, someone who does what she wants to, do not because other people are doing it, because I have learnt overtime that when you do what people are doing, you will get yourself into troubles.jpg