I Once Slapped My Boss 'Cos He Wanted To Date Me - Tricia Eseigbe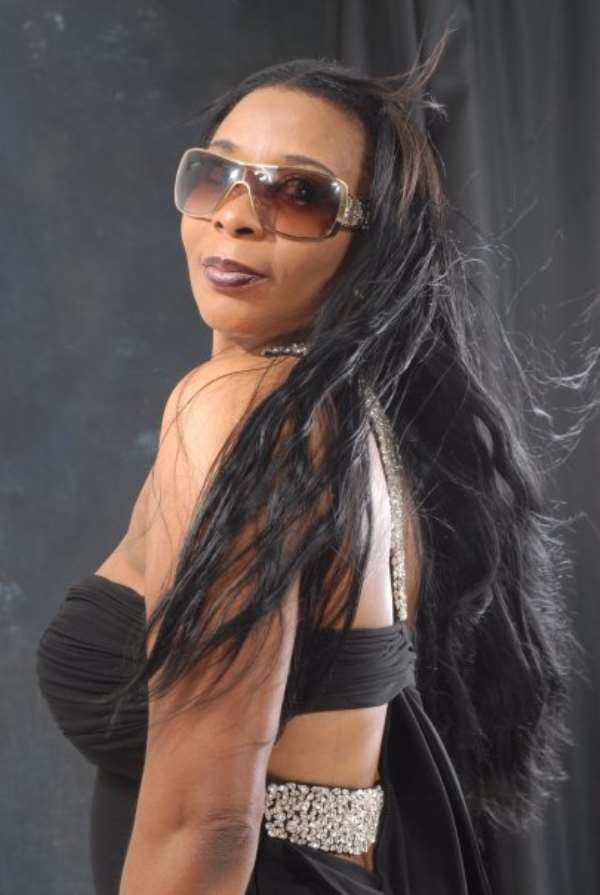 Tricia Eseigbe is an artiste who could be described as a total entertainer because she is many things rolled into one. She is an actress, TV presenter and a producer. In this interview with ADUNOLA FASUYI, she speaks on a variety of issues. Excerpts.
So what has been happening to you for some time now?
Well, so much has been happening. We just finished the premiere of Prada, my first movie ever and we are going about the marketing at the moment. The premiere wouldn't have held because of the accident I had, but at the end of the day, I wanted to glorify God, that the premiere held when it was scheduled.
What date was that?
June 12. It was premiered at the Silverbird Galleria and since then, it's been showing at the cinemas and we praise God for that. It was rated the third most-watched movie at the Silverbird Galleria. At the moment, we are doing more of the marketing to get the movie off the shelf in terms of having all the rights to also premiere in either Ghana, Kenya, America or Europe. That's what we are doing at the moment because Prada is not just a movie, it's also a tele-movie of about twenty-six episodes.
Thirty minutes to be shown weekly in different stations in Nigeria and Europe. And for us to be able to kick off with the tele-movie, we need to finish up with the movie itself. The 26 episodes should be able to cover for one year.
Tell us about Prada.
I am the producer, but it was directed by Kingsley Kelly, my husband. I acted in it as well. I played the lead character. We had other lead characters like Alex Lopez, who played Gucci, we had Susan Peters, who played Versace, Shan George played the coach. It's a female football movie and we had another part of the movie that treated, what I call Senior Sisters Syndrome (SSS). Where you have a junior sister getting married before the elder sister. It is a tri-dimensional story line. We treated three issues in the movie. We treated football using the Super Falcons of Nigeria as a case study to enhance women football in Nigeria and the challenges of footballers.
Then we treated the emancipation of Nollywood, trying to project and encourage Nollywood practioners in their business. The Senior Sisters Syndrome is where you have the younger sister getting married before the senior sister and the trauma the senior sister passes through from families, from friends and the society. Pressure to get married and at the end of the day, she gets married to the wrong person and divorces after a year or two. We did it to try to encourage people to stay in their marriage by choosing the right person. It's not about the time and how long you have waited, but wait and make the right choice and stay in your marriage.
Since you are taking it to Ghana and Europe , did you feature any foreign artiste?
We didn't feature any foreign actor or actress because we have a lot of fantastic actors here in Nigeria . By showing the movie in Ghana means we are going to sell the right over there, not that we are going to premiere the movie over there. We are going to sell the right so that they can show the soap on their TV stations. The only person close to a foreigner we used in the movie is a Nigerian, but a British citizen. Not because of the British market but because she is a Nigerian. We just wanted to encourage our own.
You have been in Nollywood for many years and Prada is the first movie you have produced, why did it take you too long to produce your first movie?
The reason is that I have had the notion even when I was acting back in the days to produce a movie and a tele-movie as well. I told myself that I am not going to act in any soap or tele-movie until I produce my own. I have had offers from different fantastic soap operas on air and I refused because I told myself that I was going to star in my own tele-movie first before any other one. I invited some script-writers and explained my ideas to them, but they were not able to bring out what I wanted, so I cancelled everything.
I even went to the United Kingdom and got another writer and they could not give me what I wanted.
This was about seven to eight years ago. I didn't want to do anything if I don't get the script right. If you read the script of Prada, you will know that it is a bunch of intellectuals that wrote it. The script was written by my husband. He wrote the 26 episodes. Everybody that acted in the movie were happy they took part not just the scripting, but what the director brought out of them. We all know that a lot of directors cannot talk to their cast, especially if many of them are stars. If they want to correct you, they will be careful not to get you angry, but my husband got a lot of people upset because of corrections. Even when they are upset, they still come back and thank him because they know he is making them better than what they used to be. Alex Lopez and Ndidi Obi confessed that they are just discovering acting in them all over again. They realised that there are so many things that have been hidden, that other directors have not helped them discover.
Why do you think your husband was able to achieve that?
It may be because he stayed abroad and decided to be grounded with the knowledge of movie directing. Even when he was in Nigeria , he was into movies but was not really that deep, because to him, there were many errors that are overlooked in terms of directing. He decided to put it into practice with this because he is not only treating a movie for his wife, but for himself as well. I cried on set five times, Alex Lopez cried on set four times, it was not easy at all.
So, you can say that coming together with your husband was like a dream come true for you?
You are using the word, 'dream come true' but I am using the word 'I am blessed' and it has been ordained a long time ago by God. How does it fit when you have this empire of business in entertainment and you are thinking of getting married and you are afraid of your spouse stopping you from acting or working? If the person really loves you, he should be able to encourage you because that is where he met you.
There is nothing as good as doing what you love. I use myself as an example, I have never worked for anybody in my life, since I was born till date. From my Youth Service, where I did my primary assignment in After Hours, I have never worked for anybody. I actually left After Hours on my own. I left because I slapped my boss, a white man. He wanted to date me. I knew that God was going to give me my own job. I never knew I was going to be an actress. I went for an audition with a friend and that was how I started acting and forgot about going to England to do my Masters Degree after I finished serving. I thank God because He is that one that arranged my life.
Are you a born again?
I am born again because God has proven to me that He is God. God has delivered me from many things that could weigh any other person down. I will not stop glorifying me.
Would you say your husband is more strict on set than at home or he pampers you...?
My husband is very strict on set. There is no husband and wife relationship on set. 'You are playing the lead role, do it the way I want it and the way it is supposed to be, I am not looking at anybody's face.' He was more than strict and I later appreciated it. I played the role of a goalkeeper. My husband went out to research on how female goalkeepers carry themselves, the life style they live and every necessary detail about them that will make the movie to be real. We rehearsed soccer everyday.
With all the trainings, can you fit in as a professional goalkeeper?
No I cannot, because after the movie, I stopped training. The movie made me respect female footballers. I think I will respect goalkeepers than the players. They get injured a lot. There was a shot that hit my head and my head went back as if it was on fire.
What is this thing you have about soccer?
It's a passion. I also have passion for Nollywood. When you have passion for something, you don't think about the money first. You think about the joy you will get from doing those things. I love football and Nollywood.
What do you think is wrong with this generation of artistes that make them money-conscious?
They are money-crazy because of the problems we are having in Nigeria and Nollywood itself. In a week, you can have about 50 movies coming out at the same time. If they are paying you N100,000, you can get into three or four different movies but now, there are no movies. People are not shooting movies the way it used to be. Only very few people are shooting, the people shooting in Asaba and the independent producers and they are actors.
These days, the producers try to bring in the best in terms of quality in their productions. Those shooting their movies in Asaba might just be a group of people who want to make small money for themselves, so they do not spend much in making the movie. I think it has to do with what is happening in the industry presently. The industry is passing through a phase. This is the time that we need the government to come and bail us out.
Don't you think the division will make it difficult for anyone to invest which might also cause a recess in the industry?
If someone wants to invest, all you have to do is research into the faction you want to invest. On the recess in progress, they are shortcomings. They are negativity and nobody will want to invest in a place where there is no peace
Are you a financial member of Actors Guild of Nigeria (AGN), it is rumoured that some of the popular actors are not registered members?
Of course I am a registered member of AGN and even Association of Movie producers of Nigeria , AMP.
How challenging was it for you to produce your movie Prada?
It was very challenging. It was not easy because most movies you have out there are limited in terms of the number of actors you are using. Some will just get the lead character and the supporters. At the end of the day, you can count the number of people in the movie but I had a huge number of cast. I had more than a hundred cast. It was shot in Lagos and Abuja . We are still shooting in the United Kingdom.
The season two story line has United Kingdom as the setting, so we are shooting in the United Kingdom. We are doing it in such a way that we will choose about four or five cast that will be shooting in the United Kingdom because a lot of finance is involved. We spent a whole lot for the Nigerian cast because we were more than one hundred. We lodged some people in hotels while some stayed in my house.
Did you get any sponsorship for the movie?
It was all my money and my husband's. I am not saying that we have not received back. What we have received is not in liquid cash but we had adverts.
You must be really loaded then?
Not really though, but God be praised, we are quite comfortable.