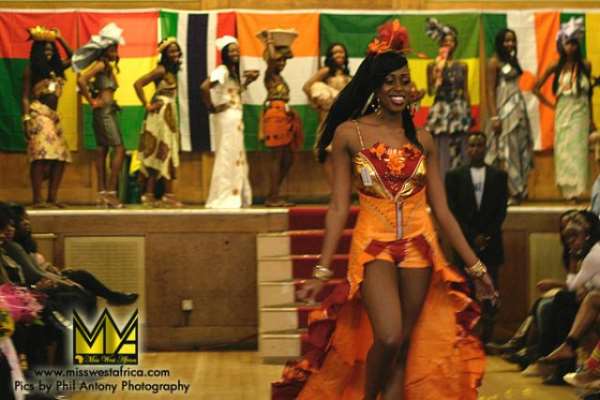 The stunning Amina Kamara was crowned the first ever Miss West Africa on the saturday 8th of November 2008 at the prestigious Conway Hall in London. The beautiful Sierra Leone born pageant stole the show in a beautiful green dress by Keni Magma amongst 11 other great pageants from various countries.
Amina Kamara, amongst others, who had worked extremely hard for the title as the 1st ever Miss West Africa shed tears as her mother run upto hug her in her victory walk. Amina had always talked about how much the title would mean to her and give her the chance to inspire many young African girls across the world. Amina currently studies tourism stating "to represent poise and class as a black woman (West African), be an Ambassador of West Africa, help to enhance the quality of life for our West African people, and to present my personality to the public and to represent West Africa as a Sierra Leonean."
Amina Kamara is a hard working student born in UK, London 31st January 2008. She is also an aspiring model and brought her qualities infront of judges Leonie Brown from Colures magazine, Rene Grey of the Voice News paper, Sinem of BHF magazines, Ross Ansa of B Magazine, Cherise Makubale the first ever Big brother Africa winner, amongst others. Amina would have taking this as another day in life if she had lost but unfortunately she was highly shocked almost off her feet. "its an amazing feeling, it the first thing ive ever won so i value it, i feel so privlegde and honoured that i get to represent West africa."
After winning, before considering any of the prizes belonging to the title holder, Amina's first words and reuqest was "When do I start working with the charities". Amina is sure to use her experience as Miss West Africa and the various travelling opportunities to enhance her future role in tourism. She has already engaged in numerous amounts of charities around the world. Nana Tamakloe of Confidence Models stated "Miss West Africa is a huge title, not only due to land coverage *smiles* but because it also holds a competitiveness between countries, who ever wins has a name and responsibility to uphold in being a great ambassador and bringing West Africans together based on West African values and cultures" he continues "I've seen Amina during rehersals and her drive in her dance and modelling aspirations, I honeslty believe Amina Kamara deserves the title. I've never been invovled in a competition where I thought highly of all the competitors/pageants"
Meanwhile, the Miss Popularity title was scooped by the beautiful Grace Addai from Ghana.
Amina Kamara has already been featured in numerous press and still recieving invites to high profile events around the world and soon be on her way to Nigeria as well as other West African countries. Miss West Africa 2008 was organised by Confidence Models (http://www.confidencemodels.com) in conjunction with the organisers of Miss East Africa UK (http://www.misseastafrica.co.uk). The Search for Miss West Africa 2009 is already on, extending its arms to West Africans at home and abroad.
For more information contact
www.misswestafrica.com
[email protected]