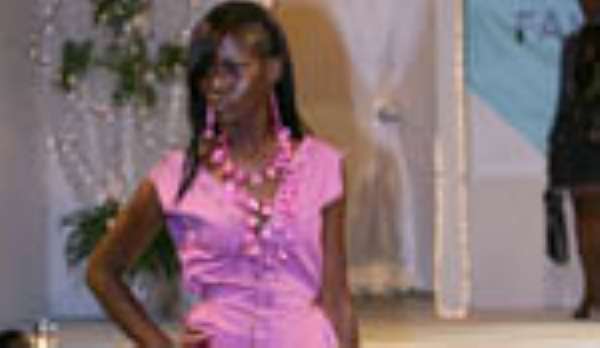 Five days of fashion, beauty and good music in what was aptly described as the "First Ever Ghana Fashion Week", organised by Exopa Model Agency in collaboration with Global Media Alliance has come to a successful end.
The week-long event began with a breathtaking
fashion show held at TV3 Studio B which attracted some fine designers from West Africa.
Among the models that moved the audience most was
award-winning singer Kwaw Kese aka Abodam, who signed a special deal with Exopa to hit the catwalk.
He drew both applause and laughter from the audience with every step he took.
Big Brother Africa 'graduate', Kweku, won the hearts of the audience with his creative modelling skills.
A former Miss Malaika, Patricia Akuamoah, who also participated, also made an impression when she mounted the stage to model.
Designers whose creations were displayed included House of Eccentric, Allan David, Qumi Bespoke and Amanua, all from Ghana; Eloi Sessou, Nackissa Doumbia and Ousmana Doumbia (Cote d'Ivoire) and Christ De Mens from Togo. There were also clothes from Runway Clothing International.
Beads and accessories were provided by Wendy L'Artisan.
Another fashion and music show was held at Holiday Inn Hotel (pool-side) which was spiced up with musical performances.
As Republic Day gifts to lovers of fashion, Exopa gaveout Runway clothing as well as products from some participating designers at discounted prices at a fashion fair held at Exopa Burg, on June 30.
A football tournament topped off the "Ghana Fashion Week" on Republic Day, July 1. The Exopa Models team beat the squad from TV3 to win the cup at stake.
Ibrahim Sima, CEO of Exopa, who described the event as very successful, stated that the Exopa-Ghana Fashion Week had come to stay.
By George Clifford Owusu