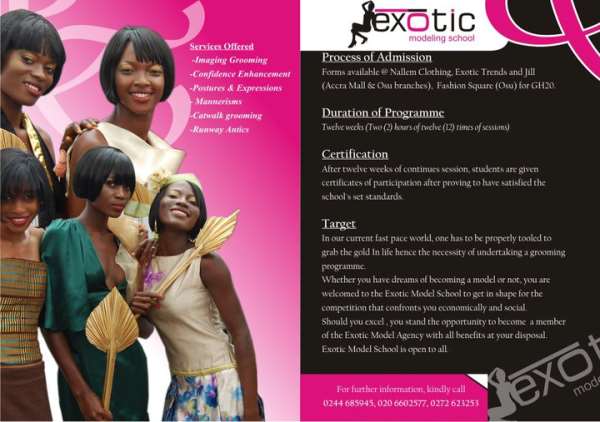 Exotic Modeling School, a multi-purpose grooming outlet and a first of its kind has been launched in Accra. Managed by the nation's leading modeling organization Exotic Modeling Agency, it is a one spot for all persons desiring to become classy, glamorous, gorgeous and elegant for the sturdy demands of our current challenging world.
In recent times, the world has become a generally fast paced environment with a rather taut competition easily noticed in all facets of life. That is an undeniable truth and a major force driving the corporate society. The non-corporate world is hugely influenced by current inflexible requirements which appear the order of the day.
Over the years, Ghana has witnessed a gradual shift in paradigm, embracing global competitive trends and practices supposed to cause growth and development. Most people in their quest to keep up with the changing trends continually emphasize on academic needs to get the gold in life.
But in reality, the Ghanaian now needs more than academic qualification to perfectly fit into the demanding and ever-competitive Ghanaian society. That is the mission of the newly launched Exotic Modeling School for all persons who desire to stand tall amongst their peers. Known for its successful initiatives in the past, the Director of the school Bennet Adjei explained the mode of operation of the school.
"It is not the regular modeling school we have seen in the years gone by. We are looking at impacting and bringing change to people's lives. You don't have to desire to become a model to enroll; it is for everybody who wants to have the needed urge in life to propel him or her to greater heights. One's delivery will be enhanced and confidence boosted aside other areas of life.
To enroll, you purchase a mandatory enrolment form from Fashion Square, Jil, Nallem and Exotic Trendz shops at their Osu and Accra Mall branches".
Areas to be tackled include Image Grooming, Posture Enhancement, Runway Antics, Mannerisms, Catwalk Grooming among others.