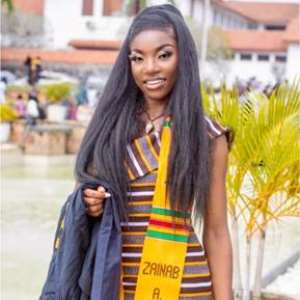 South Africa, Johannesburg, 24 May 2022 - The Miss Heritage Global is amongst many pageants that are held in the world focusing on educating, enhancing intelligence, leadership, and independence in women across the world. Zainab Abdulai is one of the confirmed contestants that will participate at the Miss Heritage Global where she will also use the platform to empower young girls by being a symbol for a traditional african heritage.
As the world has adapted and is progressing toward recovering from the COVID-19 pandemic, The Miss Heritage Global is the first international beauty pageant that focuses on the promotion of the diverse heritage in the world and the only internationally recognized international pageant that is hosted and is based in Africa.
The Miss Heritage Global was postponed in 2021 because of the pandemic, it is set to be hosted in Limpopo, South Africa during the Heritage month that is celebrated annually in September, allowing citizens to celebrate their heritage and recognise different aspects of our diverse South African cultures. The pageant will be focused on culture and heritage as a tool to educate, celebrate and unite people from different parts of the world. The pageant will be casting 60 contestants from countries such as Japan, France, the USA, the UK, Canada, Ghana, Zimbabwe, and several other African countries that are set to take part in the pageantry.
Zainab Abdulai, currently a student at the University of Ghana, is one of the confirmed contestants to participate and represent the Ghanaians heritage on a global pageant that is set to be held in South Africa.
Ghana is known for its lush forests, diverse animal life, and miles of sandy beaches along a picturesque coast, it is also celebrated for its rich history and as a fascinating repository of cultural heritage which will be showcased at the Miss Heritage Global stage.
The pageant month will be filled with glamour, and intellectual life, and the finalists will also be physically and mentally groomed and trained. They will spread awareness through advocacy, and be challenged with cultural fashion photoshoots, and speeches on women empowerment. The contestants will display cultural diversity and themselves at the crowning ceremony of the Miss Heritage Global 2022 pageant that will be held at the Kalahari Waterfront Nandoni, Limpopo in South Africa on the 24th of September 2022.
Throughout the years' Miss Heritage Global titleholders have successfully made a positive change in their communities around the world, if you are one of the young women between the age of 18-28 who are willing to instill change in their communities when it comes to promoting your culture indifferences and embracing our diversity you can apply on the Global heritage website applications will be closed on the 31st of May 2022.