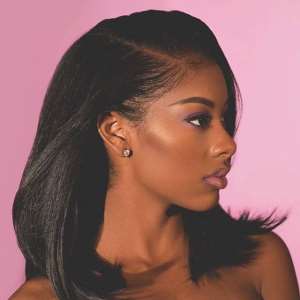 Photo - Pinterest
Step 1
Wash, condition and moisturize your hair as you normally would.
Step 2
Blow-dry your hair in sections using a comb attachment, which will help straighten the hair.
Step 3
Turn your flatiron on to medium temperature. You may need to use a medium-high setting if your hair is very thick.
Step 4
Part a small section of hair from the back of your head and run the flatiron over it from root to tip. You should need to do this only once to get the hair very straight. Going over it with heat multiple times will add unnecessary heat damage. Turn the heat up slightly, if necessary, instead.
Step 5
Continue to part and flatiron small sections of your hair from the back to the front, going over each section just once.
Step 6
Style your newly straightened hair as you see fit.