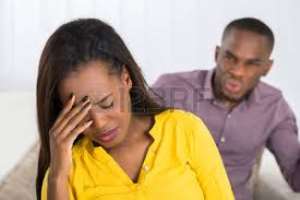 Photo credit - 123rf
So this didn't begin today. Married people have been staying in family houses for as far as I can remember.
For men who have rooms in their parents' house, it is a huge opportunity to escape hefty cost of renting an apartment after marriage. Meaning, the couple will stay together in his parents' house so they can invest money which hitherto would have been used for rent into other equally profitable venture.
Sounds good right?
But living with the family of your husband isn't always a pleasant situation especially if your husband have some sisters still living with them. Those who have witnessed this will attest to the fact.
More often than not, quite a number of women rule out such suggestions by men but eventually gives in upon persuasion and promises from the man to gather some money and move out soon.
Here are few things you should expect if you should start your family in your husband's family house.
Intrusion or interference
Family members will obviously poke their noses into the marriage. They want to know the nitty gritty of the marriage. What you are cooking for your husband and why you always cook banku. Why your husband is washing his own clothes while you stay in the room. Why you come back late from work. All these are likely to feature in the family house.
Kitchen Wahala
If you share the same kitchen with his family, brace yourself for heartaches. Here's the drift, you cook a week's meal and keep in the fridge only to come from work and meet an empty fridge on Tuesday. You clean your cooking stove and clear the plates in the sink but return to meet a dirty cooking stove and a heap of unwashed plates.
Training your kids becomes a problem
Staying in a family house makes it difficult to bring up your children the way you want to. You instil some values in them and it ends up being destroyed by other ill-mannered kids in the house. You try to keep them (kids) indoors to avert "contamination" and you are seen as being overly protected.
Home chores
Because you have married from the house, occupants of the house try to label you with the "our wife" tag which translates into you handling all the household chores including laundry for all the occupants. The moment you try to resist this "slavery," the quarrel bubbles burst.
I don't mean to say this happens in every situation. This is just to give you an idea of what to expect if you make that move.