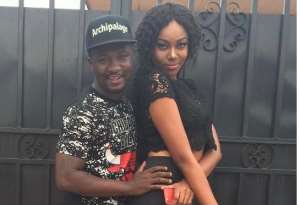 Ghanaian singer and social media critic, Archipalago has been going crazy about beautiful Ghanaian actress and movie producer, Yvonne Nelson.
According to Achipalago, his love for the actress is more than his appetite for food.
He added that he will forever be satisfied if he ever get her as his woman.
The controversial entertainer has disclosed that among all female celebrities in Ghana, his most desired one is the "Princess Tyra" lead actress.
Speaking on Accra-based Kingdom FM with Fiifi Pratt, Palago Mufasa said the only thing holding him back from convincing the actress about marriage is that he is yet to see her in his dreams.
"I wish Yvonne could avail herself for us to marry. I am in love with her. All jokes aside, Yvonne is my type of girl. The only issue is that am yet to see her in my dreams. If not, I would have persuaded her," he said.
"Among all the celebrities in Ghana, it is Yvonne I desire. I love her more than food. The video that captured us hugging has garnered over 3 million views on Facebook...we have a great vibe, and I could have kissed her if I had the chance.
"Yvonne, don't be offended; I love you. I wish I had her in my bed," he added.

Meanwhile, Yvonne Nelson, in a tweet on Tuesday, January 24, revealed that she is not ready to tie the knot with anyone soon, despite pressure on her.
She explained that she doesn't have the heart to condone the kind of attitude married woman has been tolerating in their marriage.