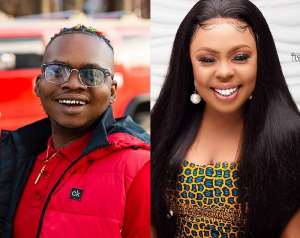 Nana Tornado claims Afia Schwarzenegger's mom is a witch whose nefarious activities within the spiritual realms were exposed and ended at a church located at Tema Community 25.
He made this wild claim in furtherance of their age-long beef which was recently intensified in a back-to-back video exchange between the two fraught with wild allegations.
Beyond that, Tornado opened fire by telling Afia that her late father was a nobody who worked as a drugstore attendant in Kwadaso, Kumasi before he could eat, in his habitually vituperative style.
He continued by asserting that he is not a school dropout, contrary to what Afia had previously claimed in a counterattack she had launched against him.
He disclosed that he went to DEKS Educational Institute and Chemu Senior High School, two of Tema's best and most prominent schools, which he claims are just for wealthy children.
Tornado also disclosed that before he became a priest, his father, a very respectable and responsible man, used to work for SIC Insurance Company PLC.
All signs point to the beef continuing, thus those of us who are members of the Ghana Beef Association believes the "vawulence" must go on.
Watch the beef below